Center for Environmental Policy Coordinating Water Technology Partnership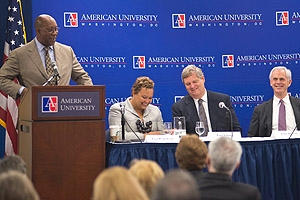 The Center for Environmental Policy is coordinating the Water Technology Initiative of the Partnership on Technology Innovation and the Environment. The partnership was formed by a group of federal agencies, universities and nonprofit organizations as one of the outcomes of the technology market summit that was held on campus in May 2012.
Its goal is to promote innovation in three water-technology areas: drinking-water monitoring and smart metering, monitoring nutrients and other nonpoint source pollution, and leveraging the economic benefits of wastewater treatment technologies. The project will culminate in a workshop to be held on campus in June.