Agencies in Cooperation for Effective Services (ACES)

Agencies in Cooperation for Effective Services (ACES)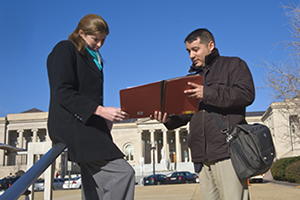 Agencies in Cooperation for Effective Services is a multi-disciplined clinical program designed to train students to become effective advocates for defendants, offenders, or juveniles who are attempting to make a successful adjustment to the community.
The ACES Program, conducted twice a year, is open to both graduate and undergraduate students. American University students as well as students enrolled in consortium universities may apply to participate in ACES.
The program combines both classroom and real life learning. Students bring the knowledge and skills they develop in class to their work with community and federal correctional agencies, pretrial services agencies, and other programs that deliver services to defendants, offenders, or juveniles in the District of Columbia, Virginia, and Maryland.
ACES students learn and practice important skills and gain meaningful experiences in the program which may ready them for careers in community programs, or further study including law school.

Benefits of the ACES program
Interacting with professionals working in the government, in business, and in community agencies.
Gaining professional work experiences and learning new skills.
Achieving a better understanding of the DC metropolitan community.
Experiencing a feeling of involvement and achievement in helping make a difference.
Increased understanding of the dynamics of working with clients who are under correctional or court supervision, and assisting with their adjustment to the community.