Questions?
SPA Justice,Law / Criminology
202-885-2948
Fax: 202-885-2907
jlc@american.edu
Ward, Room 270


Anna Castro,
Administrative Assistant
Mailing Address
Faculty Awards, Achievements, & Publications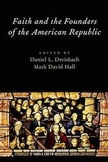 Faith and Founders of the American Republic
Edited by Daniel Dreisbach and Mark David Hall

The role of religion in the founding of America has long been a hotly debated question. Faith and the Founders of the American Republic includes studies both of minority faiths, such as Islam and Judaism, and of major traditions like Calvinism. It also includes nuanced analysis of specific founders-Quaker John Dickinson, prominent Baptists Isaac Backus and John Leland, and Theistic Rationalist Gouverneur Morris, among others-with attention to their personal histories, faiths, constitutional philosophies, and views on the relationship between religion and the state.(Oxford University Press, 2014) More Info | About Daniel Dreisbach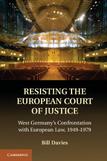 Resisting the European Court of Justice: Germany's Confrontation with European Law 1949-1979
Billy Davies
In this book, Davies analyzes German political, academic and public reactions to the evolving European legal system, which, through doctrines established by the European Court of Justice in the 1960s and 1970s, increasingly came to resemble a federal constitutional order. German resistance to these developments became central in putting rights protection and democracy in the European political map. (Cambridge University Press, 2012) More Info | About Billy Davies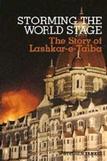 Storming the World Stage: The Story of Lashkar-e-Taiba
Stephen Tankel

In this book, Stephen Tankel traces the development of Lashkar from a small resistance group to the largest, most feared organization operating in South Asia today. He considers the threat Lashkar now poses to Pakistan, India, and the West, and how it may evolve in coming decades. (Oxford University Press, 2011) More Info | About Stephen Tankel
Freedom of Expression in a Diverse World, Volume 3 in series AMINTAPHIL: The Philosophical Foundations of Law and Justice
Deirdre Golash (Ed.)

This collection of essays on free expression seeks  to illuminate why we value freedom of speech and expression and how this freedom can be weighed against other values, such as multicultural sensitivity, the rights of racial and sexual minorities, and the prevention of violence. (2011) More Info | About Deirdre Golash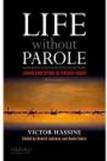 Life Without Parole: Living and Dying in Prison Today
Edited by Robert Johnson and Sonia Tabriz

"Life Without Parole may be the most authentic prison book ever penned in the English language." Stephen C. Richards, University of Wisconsin Oskkosh. (Oxford University Press, 2010) More Info | About Robert Johnson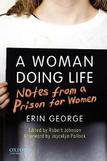 A Woman Doing Life: Notes from a Prison for Women
Robert Johnson (Ed.)

"I don't think we have ever had such a vivid and compelling book-length account of one woman's experiences and observations in jail and in prison...Robert Johnson's presentation of A Woman Doing Life may very well be his most important contribution so far to this species of scholarship." Ken Haas, University of Deleware. (Oxford University Press, 2010) More Info | About Robert Johnson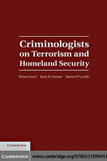 Criminologists on Terrorism and Homeland Security
Edited by Brian Forst, Jack Green, and James P. Lynch

Criminologists on Terrorism and Homeland Security presents 18 original essays addressing what is widely regarded as the most serious problem confronting America today and for years to come – terrorism – from the unique perspective of criminology. The chapters address the prevention of terrorism, the applicability of community policing and routine activities models of crime to the problem of terrorism, how to balance liberty and security, and how to think about and manage the fear of terrorism, as well as the coordination of federal and local efforts to prevent and counter terrorism. (Cambridge University Press, 2011) More Info| About Brian Forst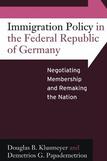 Immigration Policy in the Federal Republic of Germany: Negotiating Membership & Remaking the Nation
Douglas Klusmeyer and D. Papademetriou
This volume offers a comprehensive and critical examination of the history of German immigration law and policy from the Federal Republic's inception in 1949 to the present. (Berghahn Books, 2009) More Info | About Douglas Klusmeyer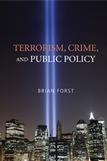 Terrorism, Crime, and Public Policy
Brian Forst
A single-source reference on the causes of terrorism and the policy options that can serve to prevent it. (Cambridge University Press, 2008) More Info | About Brian Forst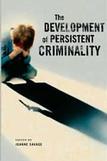 The Development of Persistent Criminality
Joanne Savage
Addresses one of the most pressing problems of modern criminology: Why do some individuals become chronic, persistent offenders? (Oxford University Press, 2009) More Info | About Joanne Savage
The Rights and Responsibilities of Citizenship the World Over
Rita Simon and Alison Brooks
Covering 21 countries, the authors examine the rights that citizens enjoy in each nation and the responsibilities that are attached to the role of citizen. (Lexington Books, 2009) More info | About Rita Simon
Presentations
"The 'Gray' Figure of Crime: Using NIBRS Data to Study Violence against the Elderly." Presented at the Association of State Uniform Crime Reporting Program's annual Conference in Baltimore, Maryland on April 24, 2012.
Guest lecture to students at the University of Hong Kong on the American System of Justice.
Gave a series of three presentations designated public "Leverhulme Lectures" as part of Leverhulme Visiting Professorship to the Bracton Centre for Legal History Research at the University of Exeter in the UK.

"The Roots of Terrorism." Presented to Senegalese criminal justice officials, sponsored by the State Department, April 1, 2009.
Panel expert during the Human Rights Film Series at American University following "Give Up Tomorrow" on September 27, 2012
Panel expert at the Fort Lincoln Civic Association's "Meet the 5th District: The 2013 Crime Prevention and Detection Strategy for Lincoln Lincoln"

"American National Security: the Threat of Terrorism." Presented at John Hopkins University, Baltimore, Maryland, April 2012. 

Recent Articles & Papers
"Adolescent Drug Users: The Justice System Is Missing an Important Opportunity." Family Court Review, April 2009.
"Religion and the Constitutional Tradition."  In Religions in America, 1790 to 1945. Vol. 2 of The Cambridge History of Religions in America, ed. Stephen J. Stein, 26-45.  New York:  Cambridge University Press, 2012.
"George Washington on Religion's Place in Public Life." In The Future of Religion in American Politics, ed. Charles W. Dunn, 97-114. Lexington, Kentucky: University Press of Kentucky, 2009. More Info
"Managing Miscarriages of Justice From Victimization to Reintegration" Albany Law Review, Volume 74, Number 3, pp. 1209-1275, 2011. View Online
"Predicting Erroneous Convictions: A Social Science Approach to Miscarriages of Justice." Funded through a grant awarded by the National Institute of Justice. More Info

"An Eighth Amendment Analysis of Juvenile Life Without Parole: Extending Graham to All Juvenile Offenders" (primary author, with Chris Miller), University of Maryland Law Journal of Race, Religion, Gender and Class 12 (1) 2012: 102-123.
"Beyond Tragedy: Hannah Arendt and Hans Morgenthau on Responsibility, Evil and Political Ethics," International Studies Review 11.2, 2009. View Online
Ferguson, C., & Savage, J. "Have recent studies addressed methodological issues raised by five decades of television violence research? A critical review." Aggression and Violent Behavior, 17 (2), 2012: 129-139.
"In Whose Best Interest?: New Jersey Division of Youth and Family Services v. V.M. and B.G. and The Next Wave of Court-Controlled Pregnancies" Harvard Journal of Law and Gender, 34, 81, 2011. View Online
Honors/Awards
Professor Addington was honored as one of the most prolific female scholars publishing in elite criminology journals by the Journal of Criminal Justice Education.
Named by District of Columbia Court of Appeals and the Superior Court of the District of Columbia, to the 2012 Capital Pro Bono Honor Roll for her remarkable pro bono service to the DC community.

Capital Punishment Report
The Maryland Commission on Capital Punishment has released its 156-page final report to the General Assembly. Pages 95-99 of the report highlight the testimony of SPA professor Brian Forst on the death penalty's lack of a deterrent effect.