On Campus
The Peace Corps and SIS – The Partnership Grows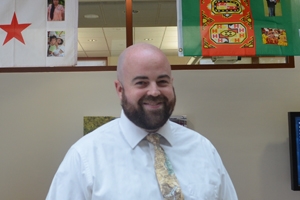 Graduate students in our Peace Corps Fellows Program are immersed in projects in D.C. public schools and community organizations. Their classmates in the Master's International Program are on campus, beginning and continuing an academic experience that will include service in the Peace Corps. And SIS is working with the University Library and other returned Peace Corps volunteers to assemble a national Peace Corps Community Archive.
The School of International Service and the Peace Corps. The relationship is longstanding, but the energy has ramped up this year as increasing numbers of SIS students combine graduate work and Peace Corps service.
That's not surprising given the natural alignment of the goals of both entities: connecting and serving communities.
The Peace Corps Fellows Program allows returning volunteers to take skills they acquired overseas and apply them close to home. This year about a dozen fellows are tackling projects in the District of Columbia.
Like the Peace Corps itself, these community programs challenge SIS students to be innovative, inventive and entrepreneurial. For example, at D.C.'s Woodrow Wilson High School, master's candidates assigned to the Wilson International Studies Program are taking on everything from model United Nations activities to international film clubs to tutoring. At ACCESS Youth, other SIS students are helping at-risk youth build the skills they need to make positive life choices.
When SIS students carry university and Peace Corps values into these projects, they also expose D.C. youth to the notion of international service as a career option. As the nation's capital and a global pulse point, the District of Columbia is an ideal incubator for professions in the world arena. At the same time, the Peace Corps wants to see more diversity in its ranks, something the District could provide.
For individuals debating whether to head to the Peace Corps or enroll in graduate school, our Master's International Program offers a solution: do both. A year of on-campus coursework is followed by a for-credit Peace Corps assignment. Then students return to SIS for a final year of study. To join the program, candidates apply to SIS and the Peace Corps simultaneously.
Graduate programs aside, the affinity between SIS and the Peace Corps is evident in other ways. Returning Peace Corps Volunteers (RPCVs) make up about 10 percent of this semester's incoming class. That's up from seven percent from last year.
Two graduate students at SIS have launched a university-wide student organization of RPCVs. They envision that weekly lunches and occasional happy hours will evolve into creative service projects. The group will also mentor AU undergraduates considering Peace Corps service.
And, of course, there is our initiative to create the Peace Corps Community Archive, something that has me, as an RPCV from Turkmenistan, especially energized. Peace Corps material sit in archives and collections scattered around the country. There is no overarching repository for the stories and artifacts linked to volunteers, their Peace Corps communities and the populations with which they worked. This archive will seek to collect, preserve, and make available the correspondence, diaries, film, photographs, reports, scrapbooks and sound recordings that will preserve the Peace Corps experience.
SIS and the Peace Corps have expectations that dovetail: a commitment to service—particularly beyond home borders, a respect for other cultures, a desire to learn and to share that knowledge and an acknowledgment of personal responsibility. Perhaps it's no wonder, then, that among medium-sized colleges and universities in the United States, American University ranks number three for the number of its graduates students who enter the Peace Corps (and third for the number of its undergraduates who join the Peace Corps).
Stephen W. Angelsmith
Graduate Admissions Specialist
Coordinator for the Master's International and Peace Corps Fellows programs