On Campus
AU Joins Ranks of Tobacco-Free Universities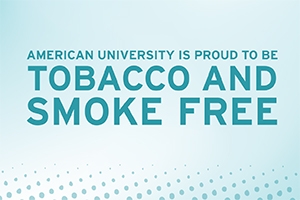 American University officially has become a tobacco- and smoke-free campus. AU joins almost 1,200 schools around the country that already are smoke-free, and almost 800 that are also tobacco-free. The policy is implemented after years of discussion and months of planning and is an effort to support the health of our community as well as the university's sustainability commitments.
The new policy, effective August 15, 2013, is another step that AU has taken in the tradition of the AhealthyU initiatives towards promoting healthy lifestyles. With tobacco use being the leading cause of preventable death and disease, the goal of the new tobacco- and smoke-free policy is to create a healthier and safer environment for students, staff, faculty, and visitors. The policy also furthers AU's sustainability efforts by reducing the amount of cigarette butts and other tobacco products-related litter on campus, supporting the university's LEED certification efforts, and generally creating a cleaner environment throughout the campus.
With the new policy , the use of tobacco products—including cigarettes (clove, bidis, kreteks), electronic/e-cigarettes, cigars and cigarellos, hookah-smoked products, and oral tobacco (spit and spit-less, smokeless, chew, and snuff)—and medical marijuana will be prohibited on all AU property, including buildings, structures, parking lots, campus grounds, and both university and private vehicles on university property.
"We respect an individual's choice to use tobacco, but not on our campus property," said Robert Hradsky, dean of students. "Many universities have implemented this policy before we have, or have plans to do so soon, including our peers in the Washington-Metro area. Becoming a tobacco-free campus is becoming the norm."
The policy applies to faculty, staff, students, as well as contractors, visitors, and other non-employees who are on property owned, leased, or otherwise controlled or operated by AU. The university is not preventing people from smoking, but it is prohibiting the use of tobacco products on its private property.
Becoming a tobacco-free campus will be an ongoing and long-term initiative that involves consideration towards smokers and tobacco users within our community. With this in mind, the university has taken a number of steps to make the transition to an entirely tobacco-free campus easier for smokers and tobacco users, including:
Allowing tobacco use at three temporary smoking areas—the Kogod Ellipse near Massachusetts Avenue, the walkway near Roper and SIS buildings, and the green space next to the tennis courts behind the Sports Center annex—until the end of the Fall 2013 semester.
Offering tobacco use cessation programs this fall to any interested community members; online smoking cessation programs, including telephonic coaching services; and providing prescription medications aimed at helping with cessation through the medical plans available to faculty, staff, and students.
Dispensing nicotine gum, free of charge, at the Student Health Center.
Launching a team of "tobacco-free ambassadors"—comprising faculty, staff, and students —that will be charged with promoting compliance with the policy, and providing health education and treatment resources that are available on and off campus.
"I'm proud to be part of a campus that has been and will continue to be dedicated to the health and well-being of our community," Hradsky added.
For more information on AU's tobacco-free policy, visit the Tobacco-Free at AU website.