On Campus
The Motley Fool Amuses Students, Others During Live Radio Taping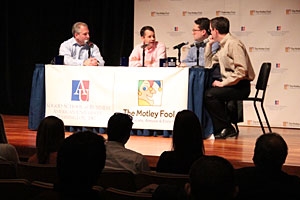 What do JC Penney's recent reimagining and subsequent stock dips, Warren Buffett's shareholder letter, and baseball as a model for the stock market have in common? The Motley Fool Radio Show covered them all during a live taping at American University March 7.
"Our mission is to educate, amuse, and enrich and [coming to American] is just the perfect opportunity to teach and share that mission with a younger audience," said Jason Moser, Motley Fool analyst and show personality.
Students On-Air
In addition to seeing firsthand how a radio show is taped, two Kogod students had the opportunity to participate in the show, pitching their favorite stocks of the moment to the panel of personalities.
Nick Mairone, BSF '14, Carlos Sanabria, BSF '13, and Carlos Roa, a sophomore at Georgetown University, each had one minute to pitch to the Motley Fool panel.
"I'd be lying if I said I wasn't nervous up there, but it was still thrilling," said Sanabria. "I'm very passionate about the stock I pitched and I'd pitch it again in a heartbeat."
Sanabria's pick was Kulicke and Soffa Industries (KLIC), a foreign producer of semi-conductor materials.
"KLIC is very undervalued at the moment…so it's a great stock to buy right now," he said.
Mairone and Roa pitched AIG and Krispy Kreme Donuts, respectively.
"There's a lot to be said for writing a tight pitch and doing it well…and the students did a wonderful job," Moser said. "They really made their stocks compelling."
Fun for the Fools
As much as the audience enjoyed watching the lively financial discussion, it's possible the gentlemen of The Motley Fool enjoyed it more.
"It was a fantastic night, there was so much energy coming from the crowd," said Charly Travers, Motley Fool advisor and show personality.
Special guest David Gardner, CEO and co-founder of The Motley Fool, shared his love of "the rule breakers and innovators" with the audience, along with advice for the future business leaders in the room.
"Step back and look at your own generation, because that's where the next real innovations are going to happen, you're going to be the ones making changes," he appealed to the audience. "Great businesses begin by solving a problem or introducing a new possibility, so if you can do one or both of those you'll have a good start."