On Campus
Books That Shaped America Spark Community Conversations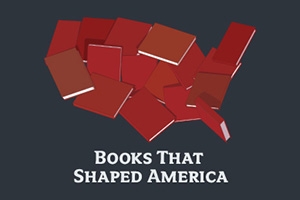 Last April, the University Library and the School of Professional and Extended Studies launched a new collaborative series to bring together members of the AU and D.C. communities to discuss selected texts from the Library of Congress's Books That Shaped America list. While this list of 88 books by American authors is not a comprehensive list of every important book, it does provoke conversation about the importance of books to individuals and society.
The Books That Shaped America series at American University helps to start that conversation. Each text is selected by an AU faculty or staff member who volunteers to lead discussion of that work. Because discussion leaders and audience members come from a wide variety of backgrounds, each discussion is unique. For the recent discussion of Benjamin Franklin's "Experiments and Observations on Electricity", Professor Nathan Harshman, Chair of the Department of Physics, demonstrated some of Franklin's experiments, including his take on the famous kite and lightning experiment. During an earlier discussion of "To Kill a Mockingbird" by Harper Lee, Professor Cynthia Jones of the Washington College of Law related the events of the story to real life through her own experience as the Executive Director of the D.C. Public Defender Service and shared clips from the upcoming documentary "Our Mockingbird".
Upcoming Conversations:
Fahrenheit 451
Ray Bradbury
November 19, 7:30–9pm
Mary Graydon Center, Room 200
University Librarian Nancy Davenport
This will be the final event for Fall 2013. The series will resume in Spring 2014.

All members of the American University and greater Washington, D.C. communities are invited to join the conversation. Attendees are encouraged—but not required—to have read the book. Light refreshments are served. Admission and parking are free, and RSVP is not required. For more information on the series, and to see photographs and video of past events, please visit www.american.edu/spexs/btsa.
To receive invitations to future Books That Shaped America and other library events email LibEvents@american.edu or call 202-885-3847. We hope that you can join us for an upcoming discussion!