Student Success Story
Internship in Hand, MBA Student Plans Future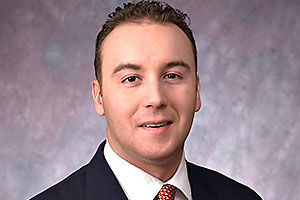 Aaron Vigil-Martinez remembers when he decided to pursue a graduate degree in business over continuing his career in law. 
It was while he was employed by the international law firm Sidley Austin LLP and in a meeting with representatives from Fannie Mae, discussing the specifics of due diligence work that Fannie was outsourcing to the law firm.
"There was one group in the back that dictated to the lawyers exactly how to finish the project," Martinez remembered. "They were the business leads on the project – not lawyers."
That's when he declared the winner between his longstanding twin interests in law and business, and returned to American University in 2008 as an MBA candidate.
Aaron probably knows AU better than most other graduate students – after all, he was an undergrad here. He graduated from the School of Public Affairs in 2005 with a bachelor's degree in law and society. Now 26, Aaron has many fond memories of his time as an undergraduate, including an eclectic group of friends, an internship on Capitol Hill, and a semester studying abroad in Madrid, Spain, and traveling through Europe.
Last fall, Aaron was elected director of programming for the Graduate Business Association - a perfect position for him, given his natural ease with people. His "swan song" for the job will be this year's graduation party, where graduate students celebrate alongside faculty members and guests.
Until then, Aaron's focused on his last semester as a student and his current internship as a junior analyst for the Department of Defense's Washington Headquarters Services, Financial Management Directorate. It's a mouthful, but it means that he'll be working for an office that plans, budgets, and oversees $6.8B for its DOD customers, which includes the Office of the Secretary of Defense.
He'd like to continue with the government after the internship concludes this summer, with his long-term goal to get into venture capitalism. First, he knows he needs to find his professional niche; the Santa Fe native has already found a city to call home.
"I love it here," Aaron says of Washington, D.C, his hometown since 2001.