Suggestion Box

Submit your feedback to the suggestion box and help Staff Council to advocate for you.

Fall Reception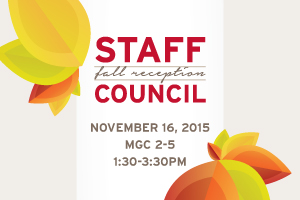 Date: Monday, Nov. 16, 2015

Location:
- Main Campus: MGC 2-5

Time:
- 1:30 p.m. to 3:30 p.m.
- President Kerwin to speak at 2:30 p.m.

Come see what Staff Council is working on, visit staff-related resource tables, enjoy desserts, enter our raffle and mingle with colleagues from across the university!
Staff Council's Achievements This Past Year

Veteran's Breakfast
300+ people at SC Fall Reception, Info Tables
Donated 30 bags winter clothes to A Wider Circle
Raised $240 for Martha's Table
Hosted two e-waste drives open to the AU community

Meet & Greets
MLK Day of Service
Enhanced presence of Staff Council at Basketball Games
Partnering with AHealthyU to offer satellite office benefits
Participate in Our Events
We'd love to include you in our events both as a participant or volunteer! The Council offers 4-6 events a year including:

1. Three Book & Media Swaps (Spring/Fall Semesters and Summer)
2. Fall Reception (Fall Semester)
3. Winter Wear Drive (Spring Semester)
4. Professional Clothing Drive
 
Please email us at scchair@american.edu or on the web form on this site if you are interested in attending or volunteering for one of our events!