Alumni Success Story
Student-Faculty Pair Coauthor Z Magazine Article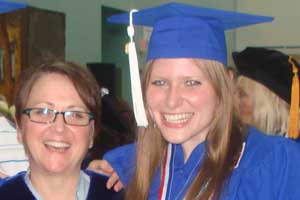 Katie Beran, BA sociology '09, and Celine-Marie Pascale, sociology professor, have coauthored an article that is featured in the October issue of Z Magazine, an independent monthly that has published scholars such as bell hooks and Noam Chomsky. 
The piece, entitled "Nowhere to Fall: Facing the Economic Crisis in the U.S.," focuses on how the financial crisis is impacting impoverished Americans. 
"When everyone talks about the economic crisis, they talk about how the middle class and the upper middle class are being affected by it," says Beran. "Our article focuses on people who were in poverty before the crisis. If you're already living paycheck to paycheck and the economic crisis hits, it's a totally different kind of crisis."  
The article updates "Normalizing Poverty," a piece Pascale wrote nearly 13 years ago about society's institutionalization of poverty. Originally published in Z Magazine, the article has since been reprinted in several textbooks and cited in law journals such as the Cornell Law Review. However, when she last allowed the article to be reprinted in 2008, Pascale determined that the piece was too out of date to continue being reprinted and decided to revisit the article.  
Reworking the piece didn't just involve updating statistics; it meant completely rehauling it to fit a modern context. This task was made more problematic when, in the midst of the research process, the economic crisis struck. "That really put the skids on our project because it became hard to say anything definitive about the state of the current economy since it was in so much flux," says Pascale. "So we kind of reframed it and redirected it so that we would be able to speak to the current issues, but also to offer a long enough view that its relevance would endure."
Pascale asked Beran to coauthor the updated article because of their extensive history together: Pascale has taught Beran in 4 classes, advised Beran for her internship with the non-profit One Common Unity, and served as the faculty advisor for University Diversity – a student group Beran founded that is dedicated to igniting discussion about privilege and oppression.  
"Every now and then, you find students who have a particular drive," says Pascale. "Katie really is one of those students who stood out to me as wanting to do something. She takes an idea and really runs with it." 
Beran's work on the article was completed with the help of a CAS Research Grant given in spring 2008. She did the research for the piece—examining endless sources of information, from statistics released by the U.S. Department of Labor and federal definitions of unemployment to pieces released by The Economist and Fortune—and worked on the drafting process. Beran would send her drafts to Pascale, who would revise them and return them for revision. When Beran's final draft was complete, Pascale began the coauthoring process. She added her own writing to Beran's draft, shaping the piece into its final form. The entire process lasted for the duration of Beran's spring semester as well as her summer.
"I learned so much from it," Beran said. "In the end it was totally worth it."