Alumni Success Story
Paul Diaz: Health Care Built
on Trust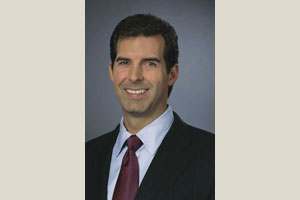 As an Eagle Scout setting up an auxiliary volunteer program at a hospital where his mother worked, Paul Diaz got to know the orderlies, saw how supplies were managed, and spent time in labs and the pharmacy. His grandfather, a surgeon, hoped Diaz would follow the family tradition by becoming a doctor.
But this first-generation Cuban-American from Miami, who'd spent years volunteering at the hospital, had a head for business. "AU was incredibly supportive financially," Diaz, KSB/BSBA '84, says of his decision to double major in professional accounting and finance. With a subsequent law degree from Georgetown University, Diaz says his education gave him the tools for infinite professional opportunities.
As a young lawyer at a D.C. firm, Diaz had a client in the health care business. "Life is what you make of every situation," he describes of the opportunity that led to a partnership in a Maryland health care company. In 2002, Louisville-based Kindred Healthcare tapped Diaz for the COO/president position. He became CEO in 2004.
Guiding a company of nearly 54,000 employees in 40 states, Diaz says "the number one thing I spend my time on is building trust. In order to lead an organization, you have to build trust with your customers, board of directors, employees, and investors."
He is proud that Fortune Magazine recently named Kindred Healthcare the Most Admired company in the "Health Care: Medical Facilities" category. It ranked first in use of corporate assets, people management, financial soundness, and social responsibility.
"I learn more every day that life in business is more like a marathon than a sprint," he says. "I stay focused on service and people. Being listed as Most Admired is a pretty good day."
Diaz understands the precarious nature of managing a public health care company with annual revenues of over $4 billion at a time when the government is working on health care reform. "Today, people in our organization are fraught with insecurity that is a product of an ambiguous economy," he says. "I think President Obama is more right than wrong in working toward health care reform. It will be a long conversation that needs to advance in a thoughtful way."