Alumni Success Story
Ahlstrom Brings International
Perspective to Multi-faceted Career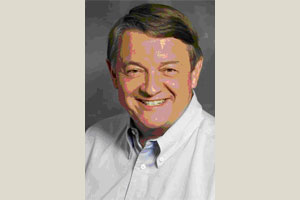 Bill Ahlstrom still hears SIS Professor Samuel Sharp's aphorisms and relies on Professor Charlie Lerche's conceptual frameworks while collaborating with former classmates and long-time friends Gary Weaver and Ted Couloumbis as commentators for the Real Clear World portal.
Ahlstrom, SIS/BA '66, SIS/MA '67, grew up in Bemus Point, N.Y., a village about 60 miles southwest of Buffalo, during the Kennedy Era "ask not" challenge and set out to pursue unlimited career possibilities: civil service, teaching, public policy, and business—public service with an international emphasis has been the common thread throughout his life.
It took Ahlstrom a decade after graduation to leave the AU campus for the first time. During his first AU "tour," he taught courses in international relations and helped keep communications open during the anti-Vietnam War years. He was instrumental in fostering the growth of WAMU-FM, and set up a program in pre-revolutionary Iran with SIS Professor Gary Weaver.  
In 1979 Ahlstrom turned toward national politics as domestic policy advisor for George H.W. Bush's Presidential primary campaign. He subsequently served as a policy advisor in the 1980 Reagan/Bush campaign and was a member of the Bush transition team in 1988. Following Reagan's 1980 win, he joined Pharma, the pharmaceutical trade association, as chief administrative officer.
In 1982, high tech lured, so Ahlstrom spent a decade at a software company pioneering management systems for the newly-emerging computer networks, where he led international operations from his home base in Europe.
After selling the company, he returned to AU in 1991 at the urging of Donald Myers, vice president of finance and treasurer, and university trustee Cy Ansary, to assist then-President Joe Duffey with internal planning, organizational development, and international activities.
In 1995, he returned to high tech, and started a software company that became part of Cisco Systems, where he spent 14 years in several roles that always had an international aspect.
Living in Silicon Valley since 1995, Ahlstrom has recently joined CA, Inc, a major management software company with worldwide operations.
After some 40 years in the national and global arenas, Ahlstrom says his greatest accomplishment is "my wife and I raising a fabulous multi-lingual daughter who loves to travel, a student at Santa Clara University. It is far and above anything we've done."