Outstanding Scholarship at the Graduate Level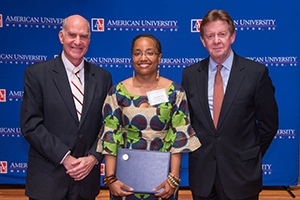 2014 Award for Outstanding Graduate Scholarship recipient Kia M. Q. Hall (SIS '14).
(Two recipients named)
CRITERIA: This is a highly competitive award given to a master's or MFA student and a PhD student to recognize exceptional academic accomplishments and scholarly contributions to their fields. Such success should be evidenced by the nominee's academic record and by outstanding scholarly contributions in such forms as publications, distinguished research, creative work, or conference participation. Nominated students must be eligible to participate in the May 2015 commencement ceremonies.