President's Award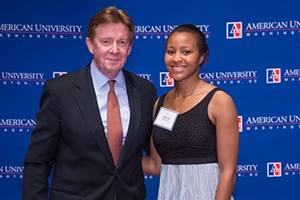 2014 President's Award recipient Alexis Dobbs (CAS '14).
CRITERIA: The President's Award is the highest award for undergraduate students and is presented to a graduating senior whose accomplishments over the course of his/her undergraduate years are truly exceptional and reflect the highest ideals of American University. The President's Award winner receives $1000 and an engraved medal which are presented at the recipient's Commencement ceremony.
Nominees will have demonstrated exceptional academic achievement, integrity, selflessness, leadership, and service to the Washington, D.C. community. He/she will have contributed significantly to building community and promoting the understanding and acceptance of cultural and racial diversity on the AU campus.
In addition, the nominees will meet the following criteria:
Undergraduate senior eligible to participate in graduation who will be present at the May 2015 commencement ceremony
Eligible for Latin Honors:
(a) Achievement of a minimum 3.67 cumulative grade point average and a semester GPA of 3.67 (for the most recent completed semester)
(b) Completion of at least 60 credit hours required for the degree in residence at American University with no more than 15 credit hours taken pass-fail
Currently in good community standing
Letter of support (self-nominations are acceptable with requisite letter of support)