Alumni
Two Alumni Inducted into Hall of Fame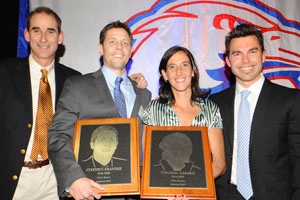 The American University Department of Athletics and Recreation honored former men's soccer student-athlete Stephen Franzke, SPA/BA '98 and former field hockey student-athlete Virginia Casabo, CAS/BA '99, with induction into the Stafford H. "Pop" Cassell Hall of Fame on Saturday, February 9.
Stephen Franzke was an integral part of American's 1997 NCAA Tournament run, leading the Eagles to the NCAA Quarterfinals for just the second time in program history. The defender scored the game-winner with 10 seconds left in double-overtime to lift American to a first round victory over William & Mary as it opened its tournament run. Franzke was a four-year starter and four-year captain for the American University men's soccer team. He was a two-time First Team Regional All-American in 1996 and 1997. Franzke was a three-time All-CAA honoree from 1995 to 1997, earning First Team honors his in final two seasons. He was also named to the All-South Atlantic Region team in 1997.
Virginia Casabo was one of the most impactful players in the history of American University field hockey. She still holds the program record for career assists with 65 and is fifth in the program annals with 119 career points. Casabo was a two-time Regional All-America selection, earning First Team honors in 1997 and Second Team recognition in 1996. She was a 1997 All-CAA First Team selection and earned Second Team honors in 1995 and 1996. Casabo was a part of the class that set one of the best four-year records in program history, going 58-19 in her four years at American. She was also a member of teams that ranked 14th and 15th in the nation at the end of the season. Casabo continued her illustrious career in the international ranks, competing for Uruguay with over 50 international caps. In 2007, she served as captain of the squad that competed in the Rio de Janeiro Pan American games and was named the Uruguayan National Field Hockey Player of the Year in 1997.
The induction ceremony took place in the Abramson Family Founders Room inside the School of International Service building on campus. The Stafford H. "Pop" Cassell Hall of Fame was created in 1969. Sponsored by the Cassell Family, the Hall of Fame was established to recognize the achievements and contributions of individuals associated with American University Athletics and Recreation.