Alumni
AU Night at Nationals Park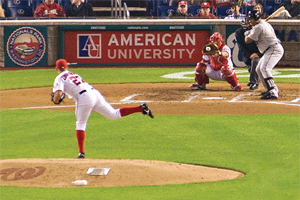 Many in the Washington area think the Nationals are poised for the pennant race in 2014. And for the third year in a row, American University is front and center at Nationals Park. 
On Friday, August 22, the AU community will gather once again to celebrate its own community alongside thousands of baseball fans. AU's Night at Nationals Park is an evening of Nats baseball and AU fun for generations of Eagles. Quickly becoming a tradition for alumni and students alike, this event is not to be missed!
Before the Nats take on the San Francisco Giants in a 7:05 p.m. game, alumni, students, faculty, and staff will gather for a picnic dinner on the stadium's main concourse. Guests will enjoy burgers, hot dogs, salad, kettle chips, and watermelon, along with visits from Clawed Z. Eagle and Skreech, the Nationals' mascot. 
T-shirts will be given away to the first 25,000 fans to enter the stadium that evening. No one will want to miss the game's opening ceremonies, with a special, soon-to-be-announced AU celebrity throwing out the first pitch and a moving performance of the National Anthem by Treble in Paradise, one of AU's popular student a cappella groups.
Tickets to AU Night at the Nationals are $25 each for alumni and their guests. Each includes the picnic dinner and a seat in the outfield section. Guests will pick up tickets at a special will-call space outside the stadium.  
Nats fans are enjoying American University brand messages and in-game WONK challenges throughout the season in 2014, as AU renewed its successful partnership with the Washington Nationals for a third year. The nationally renowned WONK campaign is featured at many home games with signs around the infield, scoreboard animation, and more. Plus, alumni, students, faculty, and staff can take advantage of special discounted tickets throughout the rest of the season. To purchase tickets for regular season games, visit nationals.com/wonk and select the game of your choice. Click "BUY TICKETS", enter coupon code WONK, and click APPLY.
Enjoy the Nats all summer long, but be sure to join us on August 22 for AU's Night at Nationals Park!