Achievements
Professor Lauded by Honors Program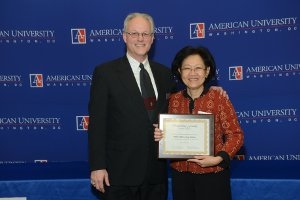 SIS Professor Pek Koon Heng recently received the 2012 - 2013 Outstanding Faculty award from the University Honors Program.

Program Director Michael Manson said that Heng was the "obvious choice" for the honor.

"Students frequently discuss how brilliant and engaged her teaching is, and they also praise her work as a mentor in the Honors 101 Program," said Manson. "I have seen firsthand how she raises the rigor of student work and drives students to think critically about what they read and hear."

Heng also serves as the director of American University's ASEAN Studies Center, which focuses on the politics and policy of Southeast Asian states. The center is the first of its kind in the U.S.

"Professor Heng has served as both a teacher in the Honors program and as an Honors 101 faculty mentor, which demonstrates not only her interest in and enthusiasm for teaching, but her dedication to the individual student experience," said Dean James Goldgeier. "I am delighted to see that she has been recognized for her tremendous efforts on behalf of the Honors students."

In the award citation, Manson also credited Heng's connection with the students.

"She has served as a faculty mentor for Honors 101 three times, gaining a reputation for being witty, approachable and caring," he said, adding that students requested her return as a mentor each year.

Heng's influence and enthusiasm extend beyond SIS. From Feb. 23 - March 2, with other faculty and administration from AU, she joined a delegation of ten U.S. universities traveling to Myanmar. This group learned about the current state of higher education in Myanmar, explored potential partnership opportunities and represented U.S. higher education's interest in building connections with the host universities.