Public Safety Contact Information
Non-emergency line: 202-885-2527
Emergency line: 202-885-3636
Tobacco- and Smoke-Free AU

AU is Proud to be Tobacco- and Smoke-Free
Maintaining good relations with our neighbors is a priority for AU and we welcome the opportunity to be a valuable and valued community partner.
We invite our neighbors to attend lectures on campus, enjoy musical performances and openings at the Katzen Arts Center, show their support as Friends of the Library, take advantage of special rates at the university fitness center and pool, and make use of campus amenities such as our bookstore, retail food outlets, and ATM machines. We have much to enjoy together and hope to see you at AU soon.
Community Liaison Committee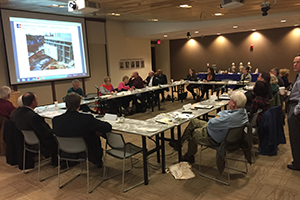 The CLC website contains materials from past meetings and the dates of upcoming meetings.
The American University Community Liaison Committee (CLC) was established to foster positive relations and to maintain regular communication between the university and its neighbors. As specified in the D.C. Zoning Commission Order for AU's new 10-year Campus Plan, the CLC comprises individuals from neighboring community organizations and representatives from the university. The CLC committee will meet at least quarterly, and will be chaired by the AU Vice President of Campus Life. One of the four meetings will be designated as a town hall meeting with the president of the university.
RSS
Events Calendar
Todays Events