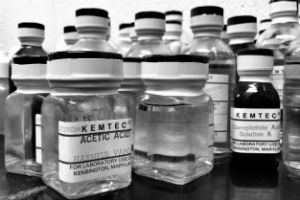 Chemical Hygiene
When using chemicals or hazardous materials at American University, faculty, staff, and students are expected to follow all appropriate regulations and university policies. Once any chemicals or hazardous materials have been used, all waste must be disposed of properly.
Chemical Inventory
Each department is required to maintain an accurate chemical inventory in order to minimize waste, track reporting limits, and comply with hazard communication laws. The College of Arts and Science currently uses CISPro to manage their chemical inventory. Safety Data Sheets for every department can be found in American University's MSDSOnline e-binder.
Hazardous Waste Guidelines
Hazardous waste must be handled according to national and local guidelines. No amount of hazardous waste may be thrown into the regular trash or poured down the sink. Please contact Environmental Health and Safety to arrange disposal of all hazardous waste.
The following provides a summary of how each hazardous waste stream is handled at American University: