AU is Proud to be an Employer of Choice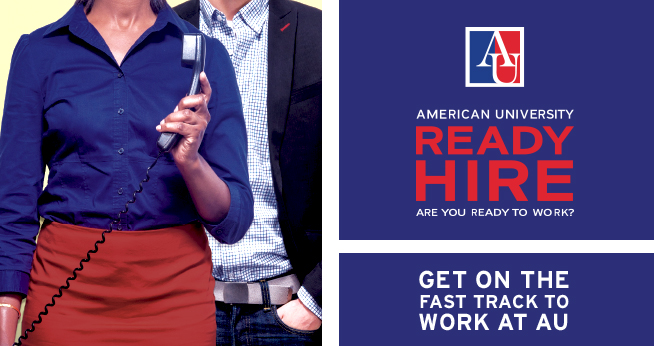 What is the AU Ready Hire Program

The AU Ready Hire program offers you a chance to become a part of a pre-screened and qualified pool of diverse candidates who are ready to fill a variety of full-time, part-time, and long-term temporary administrative openings throughout the university. The service speeds up and streamlines the hiring process for administrative positions at AU. Find the right job easier, faster, and more efficiently. Become a part of our select pool of candidates and work directly with an AU Ready Hire recruiter to find the perfect position for you at American University.

Types of Positions

Full-time and part-time permanent positions and temporary assignments
Temporary positions vary in length but are usually 1-3 months long. Candidates are not required to be available for temporary positions
Sample positions include administrative assistant, staff assistant, executive assistant, academic program assistant, event coordinator, and more!
Departments and industries include, but are not limited to, academic programs, administrative offices, executive offices, and student affairs.
Positions vary by job duties and requirements

Advantages of Joining AU Ready Hire

Personalized job search with a university recruiter
Resume, cover letter, and interview guidance 
Utilize AU Ready Hire's knowledge of and relationship with the university departments and schools
Advantages to Temporary Assignments

Network with American University departments, schools, and supervisor
Test the waters; see how you like working at American University before committing to a permanent position
Demonstrate your skills to American University staff and supervisors