Communications
Dean's Picks: Students Soar High
Commencement 2013

Check out the speakers and events for this year's commencement. Learn more
Latest Stories
Your AU: Cheng to Embrace Teaching in China
The senior will move to rural China after graduation to teach English with a program called Teach For China. Read more

Students Win Big in Arts Club Competition
School of Communication photography students snagged two of the top prizes in the 2013 Ann Bartsch Dunne scholarship competition sponsored by the Arts Club of Washington. Read more

How I Learned to Stop Worrying and Love the Code
"I went from knowing nothing about coding to creating a website in a couple months," says Peggy Aulino about the Digital Media Certificate program. Read more
In the news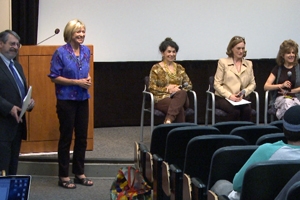 Bringing History to Life in the Digital Age
FMA professor Maggie Stogner co-hosted "Lens on the Past", an insightful panel about producing historical documentary films. She was joined by Professor Alan Kraut from the College of Arts and Sciences History Department as part of the new interdisciplinary course on producing historical documentary films. Read more
Boston Marathon Bombings: AU Experts Discuss the Suspects
Journalism professors Angie Chuang and Richard Benedetto discussed media myths and media coverage of the Boston bombings. Chuang talked to The New Republic, and Benedetto spoke to McClatchy News Service. More than 30 outlets republished Benedetto's article, including the Charlotte Observer, Miami Herald and Fresno Bee. Read more

Immigration Issues
Journalism professor Carolyn Brown appeared on China Central Television to discuss immigration reform and the U.S.-Mexican border. Watch video 
Brown's documentary subject in From the Fields, Damian Trujillo, and her are embarking on a nationwide tour of screenings of the film. View slideshow

Walden Appears Safe from Threats of Challenge
PC professor Dotty Lynch spoke to the Associated Press about the backlash felt by Representative Greg Walden after his opposition to proposed cuts in President Obama's budget plan. The Statesman Journal and Orlando Sun Sentinel republished this article. Read more
Student Success

SOC graduate student Yi Chen was named April Filmmaker of the Month by DC Office of Motion Picture and Television Development, a recognition for her "outstanding documentary on historic DC neighborhood."
Two years ago, Chen set out to make a documentary about DC's Chinatown for her MFA thesis. The recently finished film "Chinatown" premiered at the sixth annual Our City Film Festival in March. Washington City Paper previewed the film in its Housing Complex column, drawing attention to the historic ethnic neighborhood that has become a "typical downtown commercial district."
Several newspapers, including Public Asian, Examiner.com, Sino Vision, and AsAm News, also wrote about the film. American University's Asian American Student Union hosted an on-campus screening and panel discussion in April as part of the university's Asian-Pacific American Heritage Month activities.
WAMU 88.5's Metro Connection will air a story about DC Chinatown and Chen's film on its May 3 show.
Upcoming Events
JFK Remembered with Tom Brokaw and Nick Clooney
May 1 - 7:00 p.m., Newseum, Learn more
2013 Visions Film Festival
May 3 - 6:30 p.m., Katzen, Learn more

2013 Public Communication Awards
May 9 - 5:00 p.m., MGC 4, Learn more
Commencement 2013
May 11 - 1:00 p.m., Bender Arena, Learn more

Please send your suggestions for Dean's Picks to Michael Wargo.