Orientation & General FAQs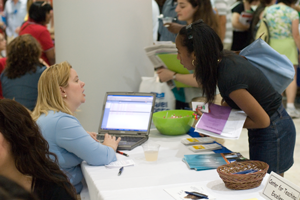 Below you will find some of our most frequently asked questions regarding summer orientation programs for new students to AU. If you cannot find an answer to your question, please contact our office.
I'm having trouble registering for Eagle Summit. What is going on?
2016 Eagle Summit Registration will become available April 1st, once all students have submitted their Enrollment Agreement and tuition deposits.

I don't want to register for Eagle Summit using the myau.american.edu portal. Is there another way I can register?
It's very important that all new students activate their myau.american.edu portal account and use it to register for the Summit and Welcome Weeks programs. You will receive official information from AU at your AU e-mail address, and you'll use the portal to view your student accounts, pay tuition, add money to your EagleBuck$ account, and in the future, even register for classes. The only way to get used to using the portal is to use it!

If you're having trouble activating your account or logging on to the portal, call the AU Help Desk at 202-885-2550. The Help Desk can also assist you if you've forgotten your password. If you don't have access to the Internet, please contact our office and we'll be happy assist you over the phone.
What if I want to make changes to my Eagle Summit or Welcome Week registration?
You can make changes to your registration by sending an e-mail with your request to orientation@american.edu. Once we have processed the change to your registration, we will send an e-mail confirmation to your AU e-mail address along with information about payment adjustments. Any changes must be received at least 5 business days before the program for which you've been confirmed.
What's the New Student Checklist?
The New Student Checklist is a Web-based tool on your myau.american.edu portal that you can use to keep track of all the tasks you need to accomplish before you begin classes in the fall, such as selecting a meal plan or completing your health insurance waiver. You can access the checklist by signing into the myau.american.edu portal and then clicking on Activities and Events in the gray bar on the right side of your screen. Under Personalized Links you'll see a link to Student Checklists. When you click on New Student Checklist, you'll be directed to your own personalized information and will be able to complete tasks directly through the portal. Once you've completed a task, you can place a check mark next to it to indicate that it's been completed.
What should I bring with me to Eagle Summit?
The folder that was mailed to you to hold all your important information
Your results from the Foreign Language Placement Exam (if applicable)
Something to write with and write on
Some sort of alarm clock
Comfortable walking shoes
Casual and warm-weather attire, as well as a sweatshirt or light sweater for air-conditioned rooms
Overnight Toiletries
Umbrella - DC weather is sometimes unpredictable
What shouldn't I bring to Eagle Summit?
Sheets or a towel for your overnight in the residence hall. We'll provide them for you!
Your pets- as you may or may not already know, the residence halls are pet-free, so please leave Sparky at home.
Your friend from high school who's going to XYZ University- coming to AU is a new and exciting opportunity to build connections with other first-year students. Additionally, students and their guests will attended parallel, but separate programs.
Where do I send the photo for my AU ID card?
You can submit your own electronic photo for your AU Student ID card using the New Student Checklist on the myau.american.edu portal. In order for us to have your ID card ready at Eagle Summit, we must receive your photo at least three business days prior to your orientation session. Please contact Housing & Dining Programs at 202-885-3370 with any questions.
When will I know my housing assignment?
Housing assignments will be sent to each student's AU e-mail address in June. The name of your roommate will be included in that correspondence. You can reach Housing and Dining Programs by phone at 202-885-3370 or by e-mail at housinganddiningprograms@american.edu.
How can I get more information about a meal plan?
If you are a first-year student living in the residence halls, you will be automatically enrolled in the 175-block plan unless you select one of the other plans available to new students. You'll find out how to select or change your plan during orientation. Information regarding all available plans is on the Housing and Dining Programs Web site at www.american.edu/ocl/housing. You may change your meal plan in person within 15 days of the start of the semester. If you have further questions about Dining Services at AU, check out the Web site at www.american.edu/ocl/housing or call 202-885-3370.