Community-Based Learning and Research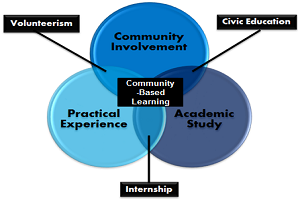 Across the nation, Community-Based Learning and Research (also known as service-learning) is increasingly utilized as a teaching and learning strategy. This technique integrates meaningful service with instruction and reflection to enrich the learning experience, teach civic responsibility, and strengthen communities.
This pedagogy provides AU students and faculty the opportunity to respond to significant needs of the DC metropolitan area. Students practice, re-examine, and deepen their classroom learning through direct service or a project with a nonprofit organization. Student and faculty work benefits the community as well as their own intellectual development.
The work is deeply rooted in our strategic plan and goals: 
"Our students will enhance their broad education…through community-based learning and research."
"Academic life will be enriched by…bonds with local, national, and international organizations…these programs, partnerships, and relationships will demonstrate our deep local roots." 
"We will strengthen our culture of service and social responsibility. Life at the university will be marked by rich opportunities for service…and a vigorous commitment to the city and people of Washington, D.C."
We accomplish these goals through the CB Course Designation, The Community Service-Learning Program, and courses with service-learning components.