AU Alumna, Parent, Donor, Neighbor, and Friend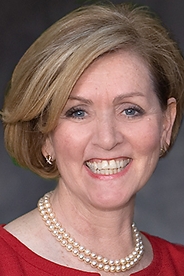 Ann Kerwin is the wife of American University's 14th president, Dr. Cornelius Kerwin. Before retiring, she worked for many years at the Corcoran Gallery of Art, where she was the director of Human Resources. Ann is a native of Indianapolis, Indiana, and is a graduate of American University's College of Arts and Sciences, where she majored in art history. After completing her undergraduate studies, she lived and worked in Boston for a brief time, then moved with her husband to Baltimore, where she worked in the Humanities Center at Johns Hopkins University. When the Kerwins returned to Washington, Ann began her career at the Corcoran.

Ann Kerwin has focused most of her attention at American on the Arboretum, and can often be found at the Katzen Art Center's museum and Abramson Family Recital Hall, as well as, student performances at the Greenberg Theatre. She is also an honorary board member of AU Hillel, a member of the AU Arts Council, and a member of the Friends of the AU Library. She has joined AU students and faculty in reading to local elementary school children as part of the annual Dr. Seuss Day activities.

Ann is a long-time member of Washington Hebrew Congregation and is an active participant in the Catholic-Jewish Dialogue, sponsored by Washington Hebrew and Our Lady of Victory Church.

In addition to being AU alumni, the Kerwins are AU parents. Their elder son, Michael, is a graduate of the School of Communication; Michael's wife, Kara Hornung Kerwin, is a graduate of the School of Public Affairs. The Kerwins' younger son, Alex, received his undergraduate degree from Tufts University's School of Engineering, and an MBA from Duke University's Fuqua School of Business. The latest addition to the Kerwin family is Kara and Michael's daughter, Violet Elizabeth—a budding AU Eagles fan.