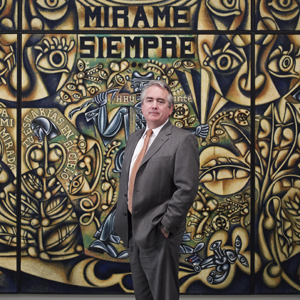 John Rasmussen
Director of Art Gallery & Curator
Katzen Gallery
Jack Rasmussen is the Director and Curator of the American University Museum at the Katzen Arts Center. He previously held Executive Director positions at di Rosa Preserve: Art & Nature, Maryland Art Place, and Rockville Arts Place. He was the owner and director of Jack Rasmussen Gallery in Washington, DC. More information can be found on his blog.

Degrees

PhD, Anthropological Linguistics, American University
MA, Anthropology, American University
MA, Arts Management, American University
MFA, Painting, American University
BA, Art, Whitman College (Walla Walla, Washington)
Loading ...

OFFICE

CAS - Katzen Arts Center
Katzen Arts Center - 163
---
AU Expert
Area of Expertise: Contemporary art, curatorial practice, museum management, international cultural exchange

Additional Information:  Jack Rasmussen earned his bachelor's degree in art from Whitman College before launching a long association with American University and notable arts career in the D.C. region. His several AU connections include master's degrees in painting, arts management, and anthropology; and a PhD in anthropological linguistics. He also served as the university's associate director of development from 1983 to 1987. Rasmussen began his career in 1975 as assistant director of the Washington Project for the Arts under founder Alice Denney. He then owned and operated the John Rasmussen Gallery, a vital part of DC's art scene until he closed in 1983. From 1989 to 1992, Rasmussen helped conceive, launch, and operate the Rockville Arts Place in suburban Maryland. He then became executive director of the Maryland Art Place (MAP) in Baltimore, a nonprofit contemporary arts center serving the Mid-Atlantic. In his 10  years at MAP, he curated a series of cutting-edge shows and off-site projects, introduced a new cabaret space, and heightened community involvement. Rasmussen's next post—before the Katzen—was executive director of the di Rosa Preserve: Art & Nature, a contemporary art museum and natural habitat in Napa, California. There, he oversaw the care and exhibition of 2,100 artworks indoors and out, and organized traveling exhibitions to establish the di Rosa's reputation and identity as the premiere venue for Northern California contemporary art. Rasmussen is president of the Mid-Atlantic Association of Museums and is a member of the board of directors for the Amalfi Coast Music and Arts Festival.

Media Relations
To request an interview please call AU Media Relations at 202-885-5950 or submit an interview request form.