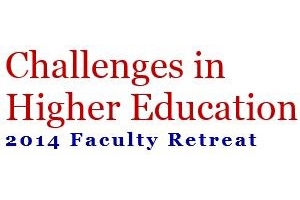 View Retreat Photos
Click here to view great photos from the 2014 Faculty Retreat!

2014 Faculty Retreat
October 10-11, 2014
Hyatt Regency Chesapeake Bay
Cambridge, MD

AU Faculty are the heart and soul of the academy and the driving force of the institution. With this responsibility, faculty engagement in planning and implementing academic priorities and strategic goals is critical. The 2014 Faculty Retreat is a day-and-a-half off-campus event that brings the university-wide faculty together for this purpose.
This year's theme, Exploring Key Challenges in Higher Education, will focus on the following five challenges in the context of AU's Strategic Plan, our collective aspirations, and trends in the higher education landscape:
Developing a culture focused on inclusion and retention
Balancing liberal arts education with the development of applied skills
Creating learning opportunities matched to the learning styles of the Internet generation
Developing administrative mechanisms supportive of faculty collaboration across academic units
Providing a setting that assists faculty in carrying out high impact research
Additionally, we will learn about how the AU 2030 initiative is addressing several of these challenges through cross-unit faculty collaboration and team-based research that designed to respond to address the great issues of our time and attract future scholars and students.
Planning Committee
James Goldgeier Co-chair, SIS
Nancy Davenport, Co-chair, LIB
Anna Amirkhanyan, SPA
Melissa Becher, LIB
Jonathan Fox, SIS
Sonya Grier, KSB
Phil Jacoby, KSB
Leena Jayaswal, SOC
Billie Jo Kaufman, WCL
Evan Kraft, CAS
Stefan Kramer, LIB
Andrew Lih, SOC
Eleftherios Michael,SPExS
Mark Niles, WCL
Mohammed Nimer, SPExS
Tony Quainton, SIS
Ximena Varela, CAS
Jessica Waters, SPA
Denise Wilkerson, Provost Office