Alumni
SIS Alumna Explores the World and its Food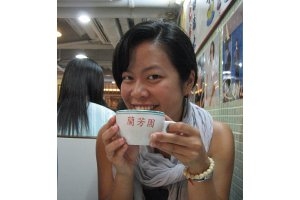 Jacquelyn Chi, SIS/MA '11, took a winding road to her job at the Culinary Institute of America, where she is manager of strategic initiatives. But once she arrived, the destination seemed tailor-made.
The job combines her love of food, her interest in sustainability issues and her international communication studies at the School of International Service. There was another plus - the institute is located in California, the state she considers home and one of the pulse points for the U.S. food movement.
"There came a moment when I knew I wanted to be involved in the food world, but I wasn't exactly sure how to turn what I studied into a real job," Chi explained. "How food communicates culture - what job does that translate to?

"I knew there must be something out there for me, but I didn't know what it was called. Now I know. This is the job," she said.
After earning an undergraduate degree in radio/television/film from Northwestern University, Chi worked coordinating volunteers at two film festivals. That was followed by a job with TV.com. But there was a part of her background that wasn't being addressed: Chi had lived in Hong Kong when she was young and traveled extensively.
"One day I realized I was tired of my job and I wanted new opportunities," she said. "I had a lot of personal international experience, but not a lot of professional international experience. It wasn't on my resume."
"I realized that AU underscored my interests in international exchange and international culture," she added.

At SIS she explored how "food communicates culture" and the role of food policy in development. She also became involved with a Turkish coffee project that borrowed from the popularity of food trucks. SIS doctoral candidate and adjunct instructor Hasan Efe Sevin and a young Turkish woman seeking to foster international interaction co-founded the initiative.

"They handed out free Turkish coffee. It wasn't a commercial venture, it wasn't about making money, it was just about opening dialogue," said Chi, whose assignment involved photographing and videotaping some of the encounters.

The campaign traveled along the East Coast, bringing coffee to college campuses.
Today, Chi's job at the Culinary Institute puts her in contact with discussions on the evolution of cuisines around the world and how food, culture and nationality are intertwined. She works on the institute's conferences, including "Worlds of Flavor," which each November serves as a professional forum on world cuisines and flavors. This year, she'll work on a conference focused on Millennial Generation food tastes.
Chi also is involved in initiatives around healthy menus, sustainability and the institute's thought leadership programs.

For someone who loves being involved with food, there is one irony with the new job. "I cook far less," Chi admitted. "That's because we get to eat what the students produce."