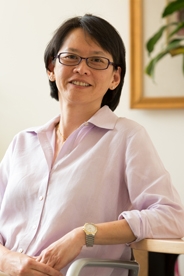 Free and open to all
Date: Thursday, Nov 7
Time: 3:30-5:00pm
Where: Abramson Family Founders Room
RSVP: Register at Eventbrite
Join us in celebrating the launch of Professor Christine Chin's book, "Cosmopolitan Sex Workers" with keynote speaker, Dr. V. Spike Peterson, SIS/PhD '88, leading IR feminist scholar and Professor of International Relations at the School of Government and Public Policy, University of Arizona. Remarks by J. Ann Tickner, Distinguished Scholar in Residence, AU, and former president of ISA. This event is sponsored by the American University Alumni Association.

A book signing will follow the event.

Book Description: Cosmopolitan Sex Workers is a groundbreaking look into the phenomenon of non-trafficked women who migrate from one global city to another to perform paid sexual labor in Southeast Asia. Through a new, innovative framework, Christine Chin shows that as neoliberal economic restructuring processes create pathways connecting major cities throughout the world, competition and collaboration between cities creates new avenues for the movement of people, services and goods. Loosely organized networks of migrant labor grow in tandem with professional-managerial classes, and sex workers migrate to different parts of cities, depending on the location of the clientele to which they cater.
But while global cities create economic opportunities for migrants (and depend on the labor they provide), states react with new forms of securitization and surveillance. As a result, migrants must negotiate between appropriating and subverting the ideas that inform global economic restructuring. Chin argues that migration allows women to develop intercultural skills that help them to make these negotiations.

Cosmopolitan Sex Workers is innovative not only in its focus on non-trafficked women, but in its analysis of the complex relationship between global economic processes and migration for sex work. Through fascinating interviews with sex workers in Kuala Lumpur, Chin shows that  sex work can provide women with the means of earning income for families, for education, and even for their own businesses. It also allows women the means to travel the world — a form of cosmopolitanism "from below."
(Book description available here)
Stream the Event Here: