Environment
Geoengineering: Science Fiction or Fact?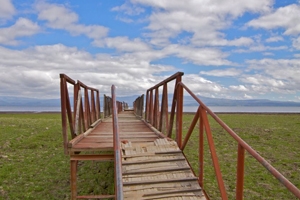 Australian author Clive Hamilton spoke at SIS on January 15 about his recent book, Earthmasters: The Dawn of the Age of Climate Engineering, which examines the implications of climate engineering proposals.
In his book, Hamilton -- who is Professor of Public Ethics at the Centre for Applied Philosophy and Public Ethics of Charles Sturt University and the University of Melbourne -- explains the promise and perils of climate engineering.
Geoengineering refers to large-scale manipulation of the Earth's climate using grand technological interventions.
Until recently, geoengineering was viewed as a desperate "Plan B" solution in the event that cutting greenhouse-gas emissions would not be sufficient to slow global climate change.
Geoengineering has now emerged as an increasingly attractive approach to tackling a growing crisis. One idea is spraying sulfur compounds into the atmosphere to reduce the amount of sunshine reaching earth, thus creating a cooling effect. Another idea is to transform the chemistry of the world's oceans so that they soak up more carbon.
The potential risks are, however, enormous, explains Hamilton. Manipulating the earth's air and water could disrupt the food chain, damage the ozone layer, cause the loss of monsoon rains in Asia, and worse. But the dangers of doing nothing are equally dire, some climate experts argue.
The risks and rewards of geoengineering are explored by the Washington Geoengineering Consortium, a collaboration between professors Simon Nicholson of SIS and Wil Burns of Johns Hopkins University. The consortium aims to generate public discussion about geoengineering and examine its social, political, and legal implications.
SIS has long been a leader in environmental studies and offers an MA in Global Environmental Policy and a dual degree in Natural Resources and Sustainable Development with the UN-affiliated University for Peace in Costa Rica.
A recent report by the Intergovernmental Panel on Climate Change stated that with "business as usual," the world would surpass the two degree threshold set as an acceptable level of temperature change within a decade.
The consequences of inaction on climate change are increasingly clear. The still open question posed by geoengineering is, what might be the consequences of a dramatic technological response?