In the Community
Professor Linda Lucia Lubrano Retires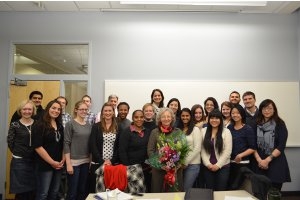 After 45 years as a member of SIS's Comparative and Regional Studies program, Professor Linda Lucia Lubrano taught her last class Dec. 6.

"I am proud to be Linda Lubrano's colleague," said University Professor James Mittelman. "Proud of her skillful leadership and high standards as director of the Comparative and Regional Studies program, stellar scholarship, contributions mentoring students and faculty, humane values and incredible generosity."

Professor Rachel Sullivan Robinson praised Lubrano's support of female faculty.

"When I think of Linda, I think of her commitment to ensuring the success of women faculty members," said Robinson. "Not only has she blazed a path as one of the first tenured female faculty at SIS, but I have observed her across numerous fora, highlighting the achievements of the women on the faculty."

"She was an excellent mentor in my early days on the faculty," said Professor Michelle Egan. "She has provided strong support for many women faculty across the school."

Lubrano began teaching at SIS in September 1968 after acquiring Ph.D. and M.A. degrees from Indiana State University and a B.A., cum laude, from Hunter College in New York. She has served as a fellow at the Woodrow Wilson International Center for Scholars and at Stanford University's Hoover Institution. At AU, Lubrano was awarded the University Award for Distinguished Teaching; Outstanding Research, Scholarship and Professional Contributions; and Outstanding Contributions to Academic Development. In 2009, she was named the SIS Faculty Member of the Year.

"Linda also helped to initiate the University-wide Honors program, the international relations honors society Sigma Iota Rho and helped to bring a Phi Beta Kappa chapter to AU," said Egan.

Lubrano's contributions to SIS have been felt for years by many classes of students, who praise her innovative way of teaching and passion for her subject.

"She makes theory understandable. I think about things in a whole new way," said Amy Newell, SIS/MA '14. 
Neena Goel, SIS/MA '13, added, "Professor Lubrano knows a lot about her field, and she makes the classes as interesting as possible."

Lubrano's teaching influence has extended beyond the students, said Professor Carl LeVan. "I count myself as one of her students because she always took time out to teach me how to be a better teacher. I am grateful for those lessons."