On Campus
Study Abroad Grows as Programs Diversify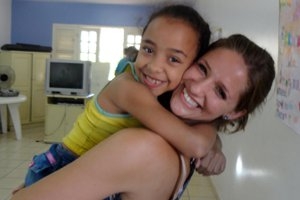 In the 2011-2012 academic year, SIS offered a record number of undergraduate and graduate study abroad programs. As the programs expanded, student participation took a robust leap - increasing by more than a third over the last four years.

"SIS is at the forefront of internationalizing the graduate curriculum through study abroad," said Director of International Program Development Rebecca Bellinger. "Graduate students don't traditionally study abroad. Students going abroad through SIS earn academic credit to fulfill specific degree requirements. By designing programs and developing partnerships that complement the SIS curriculum, we enable students to get international experience without jeopardizing on-time degree completion. In this way, the SIS study abroad opportunities are internationalizing the graduate experience and coursework."

The opportunities for SIS students to enhance their educations abroad are increasing. New summer 2013 opportunities include a program in Cuba, an Indonesian addition to the long-running Malaysian program and partnerships with the Graduate Institute in Geneva and the Azerbaijan Diplomatic Academy. Next fall, SIS will debut graduate semester abroad programs with the Munk School of Global Affairs at the University of Toronto and the School of International Studies at Peking University.

Recently, new exchange programs have been established with the U.N.-affiliated University for Peace in Costa Rica (with which SIS offers a two-year dual degree in natural resources and sustainable development), and the American University in Cairo, which will diversify the SIS student population.

"Our students are globally-minded and service-oriented, and both the number of programs that we have and the number of students we send abroad reflect the students we attract to the school, and its ethos," said Bellinger. "Also, the school recognizes students want and need to study abroad in graduate education, and enables students to do so within the parameters of the curriculum."

Christina Phillips, SIS/MA '12, is a two-time veteran of SIS study abroad trips.

"Receiving credit was by far the most beneficial aspect of participating in the summer 2011 Ecuador and winter 2012 Cuba programs," she said. "They offered a way to learn topics relevant to my degree while bringing me closer to completing my program. Everything learned on the trip was seen and studied in context, leaving lectures and lessons ingrained in us, all while having a wonderful time."

Phillips is currently completing her Boren Fellowship in Fortaleza, Brazil, which involves an internship at a local NGO that organizes extracurricular activities for disadvantaged children, as well as a semester of political science classes at the Universidade Federal do Ceará.

"I could not speak enough on the importance of studying abroad for any student, especially one studying in the international relations, development or political science fields," said Phillips. "These topics are so intertwined and dependent on a solid understanding of the history, culture and society of a place. Studying abroad complements any field, broadening horizons and offering inspirational new perspectives on every aspect of life."