In the Community
Acharya Elected President of International Studies Association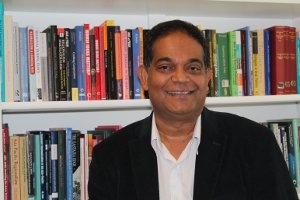 Professor Amitav Acharya has been elected the 2014 - 2015 president of the International Studies Association (ISA).
With three years to serve on the ISA executive board as president-elect, president and past president, Acharya will promote inclusivity and work to increase ISA's international presence.

"My first goal is for the ISA to be truly global and inclusive, with no marginalization," said Acharya. "I will try to give more subsidies to participants from countries that have never attended ISA. Asians are beginning to come, and Indians and Singaporeans, but not many Latin Americans or Africans. I want to see if we can increase participation from those areas, cultivate more long-term associations and set aside some funding for them to attend." 
Fittingly, Acharya was abroad when he learned of his nomination. 
"I was flying with my family from my hometown in India to Kolkata, and then we were going on to Bangkok for the flight to Washington, D.C.," said Acharya. "I turned on my BlackBerry in Kolkata, and I saw a message from the chair of the nominating committee, saying 'Congratulations, you've been nominated.' I had absolutely no clue that I'd been nominated - it was a total surprise." 
The support of AU officials, including SIS Dean James Goldgeier and AU Senior Vice Provost and Dean of Academic Affairs Phyllis Peres, was crucial to Acharya's acceptance of the nomination. 
"Amitav Acharya is one of the top scholars of international relations in the world, and his election as ISA president is wonderful news for the association and for the school," said Goldgeier. "His broad and deep global experiences make him ideally suited to lead ISA." 
In addition to his goal of diversifying the ISA population, Acharya plans extensive travel - to visit regional ISA meetings in India and throughout Latin America and to organize a conference in Africa. 
"If I hadn't come to AU, I wouldn't have become the president, because I wouldn't have had the opportunity to network," said Acharya. "I was given a home in a stimulating place. Being at American since 2009 has helped me build my credentials with a group of supportive people. It's tremendous."
Acharya, the current president of the SIS faculty, is the third member of the SIS community to act as ISA president. Distinguished Scholar-in-Residence J. Ann Tickner served from 2006 - 2007 and the late William Olson, dean of SIS from 1980 - 1986, held the post from 1968 - 1969. The International Studies Association was founded in 1959 to promote research and education in international affairs.