In the Community
Pre-College Program Attracts Future SIS Students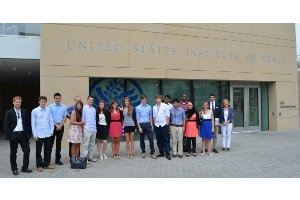 When Caroline Brazill, SIS/BA '15, was in eighth grade, she attended a mock career fair dressed in a pantsuit, and carried an American flag and a U.S. passport, indicating her desire to become a Foreign Service officer someday.

Kiera Russell, SIS/BA '15, knew from her college search that "AU was definitely my number-one choice. I knew that for a fact. I visited campus for the first time and said, 'I belong here.' "

Both students - one who was destined to study international relations and another who couldn't wait to get to AU - enrolled as high school students in SIS's pre-college Community of Scholars program in 2010.

The Community of Scholars program allows high school students to take a three-week summer course in international relations for college credit. The hybrid course - one week participating online from home and two weeks in residence at SIS - attracts students from the United States, and around the world, from Belgium to Bulgaria; Puerto Rico to the Philippines.

"I wanted to know what SIS was like, and Community of Scholars was a chance to find out," said Russell. "I knew it would give me a chance to meet great professors and other students to work with."

Students spend mornings in class and participate in afternoon workshops led by members of the AU community; they learn about studying abroad, library research and career prospects as AU Career Center representatives discuss internships. Evenings are filled with films, discussions or field trips - such as a Washington Nationals baseball game or monument tour.

"The Community of Scholars program is an excellent opportunity to get a leg up on the college experience," said SIS's Director of Pre-College Programs Page Hogan. "Finding e-reserves at the library, writing a resume or participating in model United Nations sessions are tools to prepare students for college."

As in Russell's experience, many Community of Scholars students begin with an interest in SIS, or, like Brazill, learn more about the university from the program and later decide to apply. Many participants eventually become full-time students. About three-quarters of students who participated in the 2011 Community of Scholars program applied to AU that fall, and 72 percent of those who applied were accepted.

"I was attracted to the brand new SIS building and the school's reputation of establishing excellence in the field," Brazill said.

Russell and Brazill are both members of SIS's Delta Phi Epsilon foreign service sorority and their experiences in the Community of Scholars have far-reaching effects. Brazill interned with the nonprofit Search for Common Ground last fall, after meeting the group's representatives during a Community of Scholars field trip. Russell's enthusiasm for the program attracted her younger sister, Hailey, to last summer's session, and she hopes to attend SIS.

"The Community of Scholars program appeals to a wide range of students interested in international relations," said Russell. "This is a great program if you're coming to learn, because the classes and the material are so rewarding."