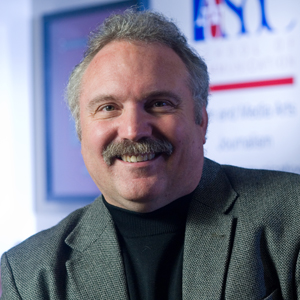 Rick Rockwell
Associate Professor
School of Communication
Rick Rockwell is the interim Director of Journalism Programs and the School of Communication's Director of the International Media Program. Also, he is a professor of journalism. He teaches broadcast journalism, communication and multimedia courses. He is the co-author of the book Media Power in Central America, which won an American Library Association Choice magazine award in 2004, as one of the best academic books of the year. Rockwell's expertise in Latin America stems from his journalistic work in Central America and Mexico. In addition to his book, he has authored or co-authored 21 book chapters, government reports and peer-reviewed journal articles on Latin America, including a chapter in the book Global Journalism: Topical Issues and Media Systems (2008). He is also the executive producer and host of "Latin Pulse" a weekly podcast distributed by Link TV, iTunes & SoundCloud.

Degrees

BSJ Broadcast Journalism (minor in Political Science), Northwestern University; MA International Journalism, University of Southern California
Loading ...

OFFICE

SOC - School of Communication
Mary Graydon - 330M
Mon. 3-4; Wed. 2-4; Thurs. 3-4; Fri. 2-4
FOR THE MEDIA

To request an interview for a
news story, call AU Communications
at 202-885-5950 or submit a request.
---
Partnerships & Affiliations
Production Consultant (2006-2009)

Executive Producer (2011-2012)
Scholarly, Creative & Professional Activities
Films/Documentaries
   
"Homefront" on the MHz Networks (2007)
   
"Flashpoint:  Immigration" on the MHz Networks (2006)
   
"Druzhba" WTSP-TV (1990)
   
"Living with AIDS" WISN-TV (1987)
   
"Sister in Need" Wisconsin Public Television Network (1987)
   
"Crane Hunters of Pakistan" Central Educational Network (1986)     
Media Appearances
   
The BBC
   
Latino USA on National Public Radio
   
CNN en Español
   
TeleSUR of Latin America
   
Columbia Journalism Review
   
"Latin Pulse" on LinkTV
   
Voice of America
   
The Washington Times
   
Televisa of Mexico
   
Yomiuri Shimbun of Japan
Honors, Awards, and Fellowships
   
American Library Association Choice magazine award for Media Power in Central America as one of the best academic books of 2004
   
American Political Science Association Congressional Fellowship 2003-2004
   
Student Confederation Open Door Award for extraordinary service to students 2001
   
Florida Associated Press Best Public Affairs Program for a television special on juvenile crime in 1992
   
Poynter Institute Fellow 1992
   
Radio-TV News Directors Association regional award for best documentary for "Druzhba" in 1991
   
Wisconsin Associated Press, Wisconsin UPI, and the Milwaukee Press Club Awards for best documentary to "Living with AIDS" in 1987
   
National Gabriel Award for best mini-documentary "Hope's Last Stop" in 1985
Executive Experience
Interim Director of Journalism Programs (2012)
   
Director of the International Media Program of the School of Communication (2011-2012)
   
Associate Director of the Journalism Division of the School of Communication (2008-2009)
          
Managing Editor WTSP-TV www.wtsp.com/
          
Executive Producer WISN-TV www.wisn.com/index.html
          
Managing Editor KGBT-TV www.valleycentral.com/
   
Professional Presentations
   
Lecturer and panelist for "The Media and the Military:  Human Rights Issues in Latin America," at the Inter-American Defense College at Ft. McNair, Jan. 15, 2010 (presented similar addresses at Ft. McNair over the past six years).
   
Presenter of "Telecommunication Reform, Democracy & Argentina," a speech before a two-day conference on telecommunication legislative reform sponsored by the      Argentine government in Buenos Aires, Argentina, Oct. 24, 2008.
   
Lecturer for "Human Rights Programming for Public Broadcasters," a series of      seminars with broadcasters and educators from Peshawar, Pakistan at      American University's Washington College of Law, May 20 and 23 and June 4, 2008.
   
"Cowboys vs. Revolutionaries:  Latin American Television's View of the U.S. and Democracy" presented at the First Annual Stone Center Conference on Media and      Democratization in Latin America at Tulane University, New Orleans, LA,      Nov. 2, 2007.
   
Panelist for "Media Ethics in Latin America & the Cowboy Code," a presentation at the Autry National Center and the Museum of the American West, Los Angeles, CA,      Oct. 27, 2007.
   
Panelist for "Press Freedom in Latin America:  Moving Forward or Sliding      Backwards?" at the Inter-American Dialogue, Washington, D.C., July 11, 2007.
   
"Finding the Power of Hidden Radio Audiences in the Fields of Guatemala," presented       at the 25th International Congress of the Latin American Studies Association (LASA),      Las Vegas, NV, Oct. 7, 2004.
   
Lecturer for "Central American Paradoxes:  The Roles of Government, Society and the      Press," at the Center for Latin American and Caribbean Studies of Michigan State      University, April 16, 2003.
   
"U.S. International Counternarcotics Policy:  Central America," presented at the      24th International Congress of LASA, Dallas, TX, March 28, 2003.
   
Panelist for the second annual symposium, "The Human Rights Situation in Mexico"      at the Universidad Iberoamericana in Mexico City, Mexico, June 23-24, 2000.
   
Speaker, "Challenges and Developments in Honduran Media" at the Centro      Universidad de Regional Norte de Universidad Nacional.      Autonoma de Honduras (CURN-UNAH) (Northern Regional University Center of the      National Autonomous University of Honduras) in San Pedro Sula, Honduras on      March 23, 1998.
AU Expert
Area of Expertise: Freedom of expression issues, especially in Mexico and Central America; journalism repression; journalism ethics; media consolidation, ownership, and regulation; U.S. telecommunication policy; the media and Congress; broadcasting in the developing nations of Latin America, especially Central America; media coverage of the drug war in Latin America; drug issues in Central America; the media and foreign policy; politics in Mexico and Central America; television and film content issues; fluent in Spanish

Additional Information: Rick Rockwell, associate professor of broadcast journalism, is the coauthor of the book Media Power in Central America (May 2003), which won an American Library Association Choice Magazine Award as one of the top academic books in 2004. He is a contributor to Latin Politics, Global Media (2002), The Encyclopedia of International Media and Communications (2003), and Negotiating Democracy (2007). He is the author of the chapter on Latin America in Global Journalism:Topical Issues and Media Systems (2008). Since 1997, he has authored or coauthored 21 book chapters, government reports, and peer-reviewed journal articles on free expression, human rights, and communications issues. He has served as Washington correspondent and columnist for a Mexican national magazine, and his research has been translated for a leading academic journal in Central America. As a freelance writer in recent years, he has contributed to the Miami Herald, the Baltimore Sun, and Newsday. Rockwell has served as a consultant for the Washington Office on Latin America and that organization's Drugs and Democracy Project. During the 2003–2004 academic year, he was honored with a congressional fellowship from the American Political Science Association, based partially on his academic research on communication issues. During his fellowship he handled telecommunication policy issues for U.S. Senator Maria Cantwell (D-Wash.). He has been interviewed about politics and media issues by CNN, Voice of America, and the Columbia Journalism Review, among other media outlets. He has done interviews for media in Mexico, Venezuela, Brazil, Germany, and other countries.

Media Relations
To request an interview please call AU Media Relations at 202-885-5950 or submit an interview request form.