Communications
Dean's Picks: Top 10 of Fall 2012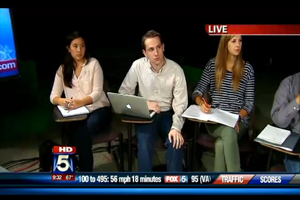 This fall, the election influenced everything from courses to internships, and SOC's DC location gave our students the chance to hear directly from big-name guest speakers, analyze the campaign for a local Fox affiliate and cover election day for major media outlets. SOC celebrated groundbreaking on its new home in a renovated McKinley, and AU bid farewell to journalism professor and co-founder of SOC's Investigative Reporting Workshop Wendell Cochran. 
Read our Top Ten stories below, then check out some of our multimedia, including student produced videos and updates on the McKinley building.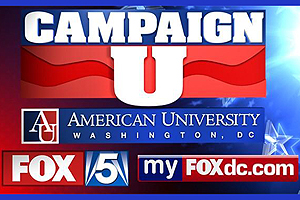 Lights, Camera, Politics
Campaign U, Inside the War Room and the Newsroom gives politically engaged AU students the opportunity to learn, think, and analyze the history and culture behind the upcoming election.
Read more

Chuck Todd and AU Students Talk Election 2012 for NBC
The MSNBC host fielded questions on immigration, voter turnout and media coverage at a recent American Forum. Read more

SOC Students Take Their Skills to the White House
Film student Matthew Carter says, "Because of SOC, I have learned proper technique for filming and editing a news package, which was essential to working on a project as large as this." Read more

Lifetime Brings AU's Krasnow to TV Audiences
AU Professor and Author, Iris Krasnow inspires through her work and experience. Read more

Washington Post Chief Digital Officer Joins Group Advising Entrepreneurship Degree
Vijay Ravindran the latest media innovator joins an exciting group advising the new MA in Media Entrepreneurship at American University's School of Communication. Read more

Recording the History in Spielberg's "Lincoln"
AU film and audio technology professor Greg Smith brought D.C.'s historic sounds to Spielberg's Lincoln. Read more

Big Data, Social Media, and the Elections
SOC professor Deen Freelon's research analyzed responsiveness to Facebook posts made by the two 2012 presidential campaigns.
Read more

Internship at the Washington Post an Unforgettable Experience
"I wasn't sure what I was getting into, but my experiences thus far have been beyond my expectations," said SOC Dean's Intern Rachel Jacobs. Read more
Inspirational Professor Analyzes Role of Women in Election Results
Professor Dotty Lynch explore the issue "women and politics" in the new series: Conversations with AU's Inspirational Women. Read more
SOC Faculty in Residence Retires
Professor Wendell Cochran retires after 40 years in journalism. Read more
Multimedia
Video of Digital News and Social Media students covering the 2012 election
SOC Style - A project for professor Scott Talan's Comm-100 class by the Media Monarchs group