International
SIS Professor Explores Migration of Sex Workers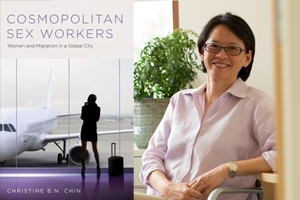 Associate Professor Christine Chin , director of the International Communication program at SIS, came to write her ground-breaking book, Cosmopolitan Sex Workers: Women and Migration in a Global City, somewhat reluctantly, as it was a subject fraught with contention in feminist scholar circles.
"Even though I kept hearing about sex workers, I was not interested in conducting research on the topic initially," she explains. "One of the reasons was that the debate among feminists on how to understand this phenomenon was divided between abolitionists and those who felt that sex workers had agency and that sex work was a valid choice for women -- with the dominant perspective being the abolitionist. I did not want to get into this debate as I felt it was too binary and picking a side was incredibly limiting."
Chin ultimately turned her research lens on non-trafficked women who willingly migrate for sex work and interviewed a number of sex workers from all over the world, including Asia, the Middle East, and Russia. Uncovering a wide spectrum of experiences, including the nature of their migration, whether the workers moved with the aid of a syndicate or independently, and the motivation for their involvement in the industry, Cosmopolitan Sex Workers paints a complex picture of the structural forces of globalization at play and how the women understand and respond to them.
Chin notes that migration for sex work is being globalized via an interconnected web of global cities. For example, there are Senegalese women in Paris and Eastern European women in the Middle East—in other words, the same forces at play as a result of globalization are impacting this industry in predictable ways as well.
Also, the assumption that the workers are the "poorest of the poor," is not representative of the reality. Some of the women are college graduates and/or come from middle class families. The women enter the business for a variety of reasons, for example, to assist their families, save money to start a business, get an education abroad, enjoy a certain more consumptive lifestyle, or simply earn income while travelling.
In the book, Chin reflects on how neoliberal globalization facilitates the occurrence of the relatively new phenomenon of non-trafficked sex workers. "The book shows the gradations, the nuances of something that was previously thought to be very binary," says Chin. "I wanted to show that the women are responding, and rather astutely so, to structural forces at play. They understand the hypocrisies inherent in the system." The political economy of colonialism, Chin discovered, is not that removed from the political economy of globalization. The sex industry illustrates that such "shadow economies" are not afterthoughts or side effects, but something that is built into the system.