Alumni Success Story
Alumna Finds Life Work Advocating for People with Disabilities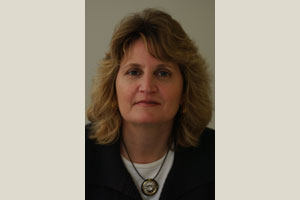 "It's a basic civil rights issue," says Helena Berger, SPA/BS '81, chief operating officer of the American Association of People with Disabilities (AAPD). Berger has made it her life's work to cut through fear and stigma attached to people with disabilities who deserve to enjoy the same rights as everyone else.
"Disability affects everyone," Berger says, whether from an accident, a debilitating illness, or simple decreased mobility in old age.
A native of Long Island, N.Y., Berger always knew she was interested in politics and advocacy work. After graduating from AU, she spent a few years working in finance, "but knew it wasn't the career path I wanted."
Then she saw a classified ad in the Philadelphia Inquirer for a position at the Eastern Paralyzed Veterans Association (now the United Spinal Association). With no background in disability work, nor a disability, Berger became an advocate for disabled veterans in the Southern New Jersey region.
Disability cuts across all classes, cultures, and incomes, says Berger, who advocates for legislation to protect access to education, employment, health care, housing, and transportation for the millions of Americans affected by disability.
A dozen years later, Berger has watched AAPD grow from a young organization with a staff of "two-and-a-half people," to an organization with a professional staff of 15 – and 100,000 members. In the future, Berger hopes to continue guiding AAPD as a member-centric organization that mobilizes the disability community into a powerful force for change. As the person responsible for managing the organization's programs, policies, and finances, Berger says, "I get up in the morning and know that I'm doing the right thing."
During the recent presidential election, Berger was proud to have had a hand in organizing disability groups in New Hampshire and Ohio, hosting candidates' forums to address their issues. And thanks to the September 2008 passage of the Americans with Disabilities Amendments Act (the original ADA was signed into law in 1990), millions of people with disabilities will gain additional protections at work and in public life.