Alumni Success Story
Go-Getter Itzler on Third
Career: Marquis Jet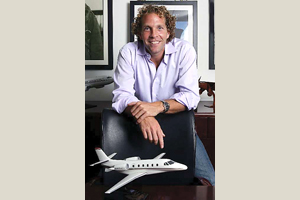 To this day, Jesse Itzler, SPA/BA '90, takes pride in the fact that he's never had a résumé. But don't let that fool you.
Among his landmark accomplishments are having a video, "Shake It," on MTV in 1991; winning an Emmy award for his hit NBA song, "I Love this Game," in 1993; cofounding Marquis Jet Partners in 2001; completing a grueling 100-mile run in 24 hours in November 2006; and raising more than $1 million for 10 of his favorite charities in just three months.
Itzler, who attended AU on an academic scholarship and says he rarely missed a class, attributes his fearless approach to living to advice he got before attending college: take advantage of each new experience. "I tried to see every speaker and to play every intramural sport whether I was good at soccer or ping pong. I entered a Monopoly tournament. I went to everything," he says.
Come senior year, he saw his friends grow anxious as they prepared to graduate. But he was into music. "When all my friends were writing their résumés, I was going from one open-mic contest to the next, and saying 'I'm going to make a record and be on the Arsenio Hall Show.' They were all going on interviews, and I was practicing rap songs," he remembers.
The result? Not long after he graduated, Itzler signed a record deal, under the name Jesse Jaymes, as a recording artist on the same label as early rap stars Young MC and Tone-Loc. He launched his first career, in music, just as he'd hoped, reaching the Billboard Hot 100 with his hit single "Shake It," and changing sports arena history in 1993 when he wrote and performed the Knicks' rally anthem, "Go New York Go."
The latter plunged him into his second, sports marketing, career. Itzler and friend Kenny Dichter formed Alphabet City Sports Records, a company whose CDs combine popular arena songs with play-by-play calls from team history. Itzler has written, produced, and recorded original songs for more than 50 pro teams, including the Wizards, the Mavericks, and the Lakers. Then in 2001, he (with Dichter) once again segued his sports marketing success into another, even more successful endeavor.
Today, Itzler's primary focus is Marquis Jet, and his schedule is as fast paced as the 25-hour jet lease cards he sells. "I handle a lot of the celebrities that fly with us. We have 300 to 400 professional athletes and celebrities as clients, including LeBron James and Matt Damon. I oversee that. It has allowed me to meet some incredible people," he says. "We'll do about $700 million in revenue this year with 130 employees," he adds.
Lest that not satisfy the globe-trotting go-getter, Itzler doesn't want to forget his philanthropic 100-mile run. Though it was too early to reveal the details of his next venture, the longtime runner did share he hopes to create a "national running-palooza" race, "the running equivalent of Woodstock." Get ready.