Student Achievement Awards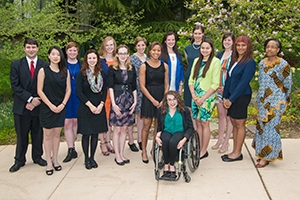 2014's Student Achievement Awards recipients.
CRITERIA: Student must have been admitted to an undergraduate degree program as of September 2014 and be a graduating senior participating in the May 2015 Commencement ceremonies. Requires demonstration of unique contributions as well as service benefiting the University community, whether through student government, public service, organizational leadership, or a combination of several categories. Each award includes $250 as part of the recognition. Specific criteria for each of these 10 named awards can be found by clicking on the link below or through the online application. 
Student Achievement Awards Criteria
History of Each Student Achievement Award
The 10 Student Achievement Awards are:
| | |
| --- | --- |
| |  Evelyn Swarthout Hayes Award |
| | |
|  Catheryn Seckler-Hudson Award | |
| | |
| |  Stafford H. Cassell Award |