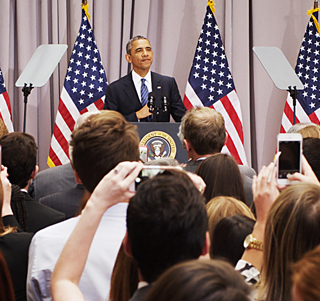 AU's spirit is captured through the people, places, and events on campus and in DC. A professor addresses incoming students at the opening of the academic year. President Obama addresses School of International Service students, faculty, and the world about the Iran Nuclear Deal. Washington College of Law students gather in the Library Commons on the new Tenley campus. A jogger runs past the Jefferson Memorial as cherry blossoms bloom. Students study at tables in Bender Library that overlook the quad and its flourishing plants and trees.
CMS Info: The Mobile version of the Call-to-Action buttons are here.
President's Award winner Tatiana Laing reflects AU's highest ideals.
Discover Your Future with an AU Degree
Six Months after graduation,
Your life can change in just a simple conversation.
There are so many monumental moments at AU that just a simple conversation can change everything. It happens in the classroom, on campus, with the people who come here to speak, through internships and in the things I do downtown. This is a time in my life when I'm both forming my beliefs and open to new ideas. AU helps me make the most of that.
Last year was my musical year at AU. It was like nothing I've ever experienced.
I've taken piano since I was in the second grade. I thought I'd have to give that up, but I carved out the time. I became involved in chamber orchestra and the gospel choir—opposite ends of the spectrum stylistically. The first time I sat down to play, I got goosebumps from that group synergy. AU has made me realize how much more I'm open to.
Photo Gallery:

Life at AU