Journalism
SOC Leads Post and AU into a Pinnacle Partnership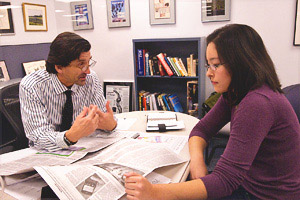 Stefanie Dazio trusted her gut.
Sitting outside a Potbelly in downtown Washington eating a turkey sandwich, the American University junior e-mailed her story on the new Harriet Tubman wax figure to the local desk of the Washington Post, where's she one of seven School of Communication students involved in a partnership expanding to unprecedented levels.
"I went with a lead that wasn't the typical five Ws and not the typical anecdotal lead," said Dazio, 21, an SOC Undergraduate Dean's Intern. "I just tried it and my editors like it."
To say the least.
"When I read it I went to the [person] who edited it and said, 'Did she write this or did you?'" said Vernon Loeb, the Post's local editor and a key player in the partnership. "I thought it was incredibly well written. You hear a lot of people talk about partnerships, but often when you try and figure them out there's not much benefit. When I think about the partnership between the Post and AU, I do think it's a classic win-win. We really benefit from the talent of AU students, and they really benefit from the real-world experience we can give them."
What began as an in-depth but normal relationship between SOC and one of the nation's most prestigious newspapers is spreading throughout the university and multiple departments at the Post.
"We'll be funneling students to them with a wide range of tools and skills, not just from SOC but in computer science, graphic arts, marketing, wherever we can across the campus," said SOC dean Larry Kirkman. "We want to prepare our students for professional careers with the highest standards and that meet the challenges of the rapidly changing digital environment. This multifaceted, ongoing partnership with a pinnacle organization helps keep our curriculum contemporary and cutting edge."
Loeb, previously a reporter for the Post, returned to the paper from the Philadelphia Inquirer a year ago. After settling in, one of his first calls was to Kirkman.
"I [knew] AU had joined the ranks of the best journalism schools over the past decade," he said. "I just really believe in the power of a robust partnership between a high quality newspaper and a high quality journalism school."
Since the beginning of the fall semester AU interns and fellows, five of whom are former Eagle reporters, have produced more than 200 bylines for the Post, according to SOC. In addition, the Washingtology page on the Post's website features documentaries about the city made by SOC filmmaker in residence Nina Shapiro-Perl's students as part of the Community Voice Project, a collaboration with the Department of Anthropology and the University Library.
The page also has a prominently displayed link to D.C. Intersections, the class website for SOC's Race, Ethnic and Community Reporting class, taught by Professor Angie Chuang.
As part of the burgeoning partnership, SOC professors Amy Eisman and Maria Ivancin's classes now are working on stories, multimedia, and surveys tied to young people and the upcoming presidential elections that WashingtonPost.com could publish.
"This competitive opportunity sets high expectations for students," Kirkman said. "And, our students are meeting the Post's high standards."
Kirkman and the Post have expanded the partnership well beyond SOC. Future plans include:
Internships for computer science students from the College of Arts and Sciences. "Those computer science and web development skills are some of the most precious and needed jobs [at the Post]," Loeb said.
SOC and the Post are cosponsoring a conference on ScraperWiki, an online tool for collaboratively building programs to extract and analyze public data from the web. The event is being held March 30–31 at the Post.
"This is a first for us," Loeb said of the extensive collaborations. "We've had partnerships on a more limited basis, but in terms of exploring ways in which the Post and a university can work together, what we're doing with AU is unique."
Both organizations' commitments to diversity are being reflected as well.
"We certainly hope that we can use the partnership to identify really talented minority journalists," Loeb said. "(Graduate fellow) Luz Lazo is a Salvadorian American and (graduate research assistant) Erica Morrison is African American. That's really important to us as our community seems to get more and more diverse every passing day."
The inaugural Graduate Dean's Fellow, Lazo is receiving $30,000 from the Post this semester. They're getting their money's worth; her story on a Salvadoran American family's Thanksgiving ran on the paper's front page on November 24.

Tubman Unveiled
Harriet Tubman escaped from slavery 160 years ago and is believed to have led at least 300 slaves to freedom on the Underground Railroad. Her distant relatives gathered at Madame Tussauds for the unveiling of her wax figure in a scene beautifully captured by Stephanie Dazio's writing.

It was the eyes.
The eyes that sought out the North Star so many times. The eyes that guided feet along the Underground Railroad. The eyes that saw freedom for her people.
The glint in the eyes of Harriet Tubman, unveiled Tuesday as a wax figure at Madame Tussauds in the District, moved her descendants to tears.
"I've seen so many people try to portray Harriet," said Valery Ross Manokey, Tubman's great-great-niece and, at 76, the oldest descendant and a resident of Maryland's Eastern Shore, where Tubman was enslaved. "This is the best I've ever seen. It's like she's looking at you. It's like she's watching you."
—Washington Post, Feb. 7, 2012
In an e-mail to his young reporter Loeb paid Dazio the ultimate compliment, saying after he read the piece that he wished he'd written the lead himself.
"The partnership only really works well if the students come in with a high skill level," Loeb said. "We editors don't really have the time to teach and train. We have the time to mentor and coach and edit. You want a student coming in who's had multiple internships, who's already worked in the real world, who's ready to roll. That's been the case with the dean's interns and fellows. They have been able to step in and do the kind of work we need them to do at the level we need it."