SUMMER HOURS (through August 16) Monday 9:00 am - 5:00 pm Tuesday 9:00 am - 5:00 pm Wednesday 9:00 am - 8:00 pm Thursday 10:00 am - 5:00 pm Friday 9:00 am - 1:00 pm
Contact:
Fernando, Gihan S
Executive Director
Public Service Work Study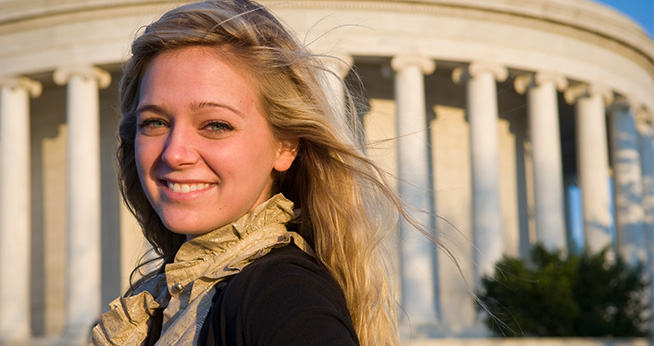 Program Overview
Earn your Federal Work Study award and gain valuable work experience at D.C. nonprofit and government organizations. The Public Service Work Study program partners with area organizations to provide multiple federal work study positions in human rights; education policy; community development; social services; sustainability; the arts; and more. Participating students develop professional skills and experience, expand their networks, and make positive change in the D.C. community. Public Service Work Study positions provide practical experience for your future career and look great on your resume.
Current partner organizations include Human Rights Watch, Kid Power, NASPA-Student Affairs Administrators in Higher Education, National Parks Conservation Association, Sitar Arts Center, Smithsonian National Air and Space Museum, RAINN, Code of Support, Peace Corps, Capitol Partners for Education, Freshfarm, Kipp DC, Latino Student Fund and Split This Rock.

Application Process
To apply for Public Service Work Study visit the student job openings page to view available positions. All available positions are listed in the department column as "Public Service Work Study."

Refer to individual position descriptions for application requirements and information. Most positions will require a current professional resume and cover letter. Some positions may also require additional documentation such as a writing sample or references.

Hiring managers who think your skills are a match for the position will contact you directly to arrange an interview. Remember to maintain professionalism and dress appropriately for the interview. Prepare by using the virtual mock interview tool or schedule an appointment with an advisor.

Apply early and often for positions that interest you. If you have questions about specific positions, contact the student employment coordinator in the Career Center at fwsassistant@american.edu.
Hiring Process
Once a partner organization offers you a position, a Career Center staff member will contact you to complete the hiring process. As a Public Service Work Study student you are considered an AU employee and must complete hiring paperwork on campus in the Career Center; a Career Center staff member must clear you before you can begin working at your site every year.

NOTE: FWS eligible students who currently hold an internship at a local nonprofit or government agency may be able to earn their award at their internship site through the Public Service Work Study Program. To participate, your internship supervisor should review the Public Service Work Study program information and complete the required application.

Contact the student employment coordinator in the Career Center with any questions regarding the hiring process at fwsassistant@american.edu.

Earning Your Award
Public Service Work Study students typically earn between $12.50-$19.00/ hour depending on the duties and skills required for the position. You will earn your FWS award by submitting bi-weekly time sheets through the AU portal. Bi-weekly paychecks will be administered through direct deposit into the checking or savings account of your choice. Remember to track your award balance throughout the year and monitor your hours accordingly.

FAQs
Q. What does a typical work schedule look like?
A. Typically students work 8-12 hours/week. You will determine your work schedule based on your availability and the needs of the organization. During the fall and spring semesters you can work up to 20 hours per week and up to 40 hours a week during the summer.

Q. Can I receive credit and my award through my Public Service Work Study position?
A. Yes; review the academic credit guidelines to determine eligibility. You may also consider the Community Service Learning Program credit option.

Q. When are Public Service Work Study positions offered?
A. Positions are offered throughout the year and during the summer. Students who apply in the fall may keep their position through the spring semester. Students must apply separately for Summer positions.

Q. Can I work at a Public Service Work Study position during the summer.
A. Yes, summer positions are available and require a request for a summer federal work study award. Contact fwsassistant@american.edu for more information.