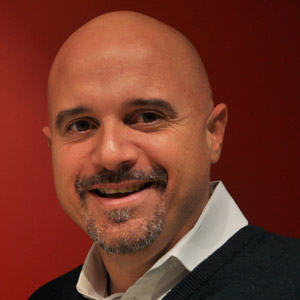 Salvador Vidal-Ortiz

Associate Professor Department of Sociology
Degrees

PhD, The Graduate Center, City University of New York
MA, California State University--Humboldt
BA, Universidad de Puerto Rico--Recinto de Río Piedras

Languages Spoken

English, Spanish

Favorite Spot on Campus


the small garden on the way to the Amphitheater


Book Currently Reading

Bio

Dr. Vidal-Ortiz's scholarship cuts across racialization, sexuality, gender, migration and religion, and is interdisciplinary. He coedited two award winning books: The Sexuality of Migration, and Queer Brown Voices, co-authored a book with two former students, Brandon Andrew Robinson and Cristina Khan, titled Race and Sexuality, and is completing a book manuscript about race, gender and sexuality in Santería (an Afro-Cuban religion).

An engaged American Sociological Association (ASA) member, he has served as convener (and first non-elected Chair) of a section called Sociology of the Body and Embodiment, is Past Chair of the Sexualities Section, and editorial board member for Sociology of Race and Ethnicity. He is also a tri-chair for ASA's Sexualities Section Pre-conference for 2018 titled: Sexualities, Race, and Empire: Resistance in an Uncertain Time.

Outside the discipline, he has collaborated with AU's Center on Latin American and Latino Studies, and as an editorial board member for TSQ: Transgender Studies Quarterly.

In the past, he has supported DC community-based groups such as Different Avenues (see related essay on Public Sociology) and the Latino GLBT History Project.

He continues Fulbright-based research on displacement and LGBT people in Bogotá, Colombia. With Juliana Martínez, he is engaged in "Transgendering Human Rights," a newest research project with the Americas as its focus.
Partnerships & Affiliations
Scholarly, Creative & Professional Activities
Selected Publications
2017. [Review essay]. "Caribglobal: Colonial desire, transgression, exclusion, and belonging in the Caribbean." WSQ: Women's Studies Quarterly 45, 1-2: 310-315.  
2016. Vidal-Ortiz, Salvador. "Sofía Vergara: on media representations of Latinidad." Pp. 85-99 in Race and Contention in Twenty-first Century U.S. Media, Jason Smith and Bhoomi K. Thakore, (eds). Routledge Transformations in Race and Media Series. Routledge.       
2015. Serrano, José Fernando & Salvador Vidal-Ortiz. "Masculinities, "Profeminism," and Feminism in Latin America." Pp. 321-340 in The Oxford Handbook of Transnational Feminist Movements, Wendy Harcourt and

Rawwida

Baksh (eds).

Oxford University Press of America.       
2014. 

Bianchi, Fernanda T., Carol A. Reisen

,

Maria Cecilia Zea, Salvador Vidal-Ortiz, Felisa A. Gonzales, Fabián

Betancourt, Marcela Aguilar, & Paul J. Poppen. "Sex Work Among Men Who Have Sex With Men and Transgender Women in Bogotá." Archives of Sexual Behavior 43: 1637-1650. 
2014. Vidal-Ortiz, Salvador. 2014. "Foreword." Pp. ix-xvii in 

Desbordes:

Translating Racial, Ethnic, Sexual, and Gender Identities across the Americas

, by María Amelia Viteri. New York: State University of New York Press.  
2013. "Displacing the Dominant Down Low Discourse: Deviance, Same-sex Desire, and Craigslist.org." [with Brandon Robinson, first author] Deviant Behavior 34, 3: 224-241.     
2011. Presentación del Dossier: :"¿Cómo se piensa lo queer en América Latina?" ("How is 'queer' thought of in Latin America?") Iconos 39: Revista de Ciencias Sociales 15, 1: 47-60. (edited special issue with María Amelia Viteri and José Fernando Serrano).   
2011. "Autoethnography: the sociological through the personal" (with Natalia Ruiz-Junco, first author), Pp. 193-211 in New Directions in Sociology: Essays on Theory and Methodology in the 21st Century, edited by Ieva Zake and Michael DeCesare. McFarland Publishers.   
2010. "Revisiting Activos and Pasivos: Towards New Cartographies of Latino/Latin American Male Same-Sex Desire." (with Tomás Almaguer, Héctor Carrillo, and Carlos U. Decena) Pp. 253-273 in Latina/o Sexualities: Probing Powers, Passions, Practices, and Policies. Marysol Asencio (ed). Rutgers University Press.    
2009. "The figure of the trans-woman of color through the lens of 'Doing Gender.'" Gender & Society, 23, 1: 99-103.  
2008. "The Puerto Rican way is more tolerant: Constructions and uses of 'homophobia' among Santería practitioners across ethno-racial and national identification." Sexualities 11, 4: 476-495.  
2008. "Transgender and Transsexual Studies: Sociology's Influence and Future Steps." Sociology Compass, 2, 2: 433-450.  
2004. "On Being a White Person of Color: Using Autoethnography to Understand Puerto Ricans' Racialization." Qualitative Sociology, 27, 2:179-203.   
2004. "Puerto Ricans and the Politics of Speaking Spanish." Latino Studies Journal, Section on Reflexiones Pedagógicas, 2, 2:254-8.

 
Honors, Awards, and Fellowships
2016 - American Anthropological Association (AAA) Association for Queer Anthropologists, Winner, Ruth Benedict Book Prize, Outstanding Edited Volume, for Queer Brown Voices: Personal Narratives of Latina/o LGBT Activism (University of Texas Press, 2015)  
2011 - Ford Foundation Post-Doctoral Fellowship, Alternate  
2010 - The J. William Fulbright Foreign Scholarship, Council for International Exchange of Scholars, A Division of the Institute of International Education. Location: POntificia Universidad Javeriana, Bogotá, Colombia.  
2010 - American Sociological Association (ASA) Sociology of Sexualities Section, Winner, Best Book Award, for The Sexuality of Migration. (New York University Press, 2009)  
2010 - Honorable mention, Latin American Studies Association (LASA), Latino Studies Section, for The Sexuality of Migration. (New York University Press, 2009)  
2010 - LASA, Sexualities Studies Section, Winner, Carlos Monsiváis Best Social Science Academic Essay, for "Revisiting Activos and Pasivos: Towards New Cartographies of Latino/Latin American Male Same-Sex Desire." in Latina/o Sexualities. (Rutgers University Press, 2010)  
2009 - Faculty Award. Gay, Lesbian, Bisexual, Transgender and Ally Resource Center, AU  
2008 - Distinguished Faculty (single faculty award, University wide), Multicultural Affairs/International Student and Scholar Services, American University  
2006 - Center for Lesbian and Gay Studies (CLAGS) of the City University of New York. Paul Monette-Roger Horowitz Dissertation Award.  
2005 - Eastern Sociological Society (ESS) Rose Laub Coser Dissertation Proposal Award.  
2004-5 - Society for the Study of Social Problems Racial/Ethnic Minority Graduate Scholarship
2004-5 - American Sociological Association (ASA), Sociology of Sexualities Section,Martin P. Levine Memorial Dissertation Fellowship  
2003-4 - Social Science Research Council, Sexuality Research Fellowship Program, Dissertation Research Fellow   
2004 - ASA Race & Ethnic Minorities Section, James E. Blackwell student paper, honorary mention: "On being a white person of color: using autoethnography to understand Puerto Ricans' racialization" (published in the journal Qualitative Sociology)  
2002 - ASA Sociology of Sexualities Section, student paper, winner: Sexuality, gender, and race: LGBTs at the crossroads of Santería religious practices and beliefs  
2002 - Society for the Scientific Study of Sexuality Student Research Grants 
Research Interests
Primary: Race/Ethnic Studies, Puerto Rican and Latino Studies, Racialized Sexualities, Sexuality Studies, Transgender/transsexual Studies, Queer Theory, Migration, Qualitative Methods, Autoethnography.
Secondary: HIV/AIDS, Body/Embodiment, Social Policy, Applied Research/Public Sociology, Global/Transnational Sociology, Religion.