Social Sciences
Storytelling across Cambodia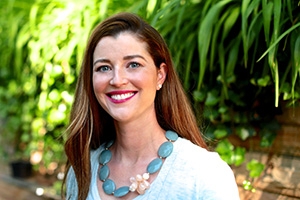 Erin Moriarty Harrelson, a PhD candidate in anthropology, received a Fulbright-National Geographic Digital Storytelling Fellowship. She was one of five grantees selected from among 864 applicants for the fellowship, which is the first of its kind. 
Moriarty Harrelson will travel to Cambodia for nine months, exploring the emerging culture of deaf Cambodians. She herself is deaf and will use video, text, photographs, maps, and drawings to document the lives of deaf Cambodians as they encounter each other for the first time and learn Cambodian Sign Language—a new language that is still being developed and documented. She will travel across Cambodia to Phnom Penh, Kampot, Kampong Cham, Battambang, Sihanoukville, and Siem Reap to collect stories and share them with a global audience on nationalgeographic.com. 
Moriarty Harrelson says that she was guided through the application process by professors of anthropology Dolores Koenig, William Leap, and Audrey Cooper, along with Chris Swanson, assistant director, Office of Merit Awards. They helped her develop her project, and they wrote testimonies about her ability to overcome challenges. 
"I would not have this incredible opportunity without the support of American University," said Moriarty Harrelson. "I am proud to be affiliated with AU because of the unwavering support I have received from fellow students and the faculty in the Department of Anthropology. This department's scholarship epitomizes social justice and community activism." 
Swanson said that the fellowship's digital storytelling focus is perfect for Moriarty Harrelson. "Video is such an intuitive way to capture the story of people using sign language," he said. "There is something deeply alluring about Erin's topic—the emergence of a post-Khmer Rouge deaf culture in Cambodia. She is able to witness a new culture coming into being, and as a deaf anthropologist she's uniquely qualified to capture this story." 
Cambodia and the Search for a Shared Language 
More than 30 years after the fall of the Khmer Rouge regime, Cambodia continues to rebuild itself. One of the ensuing cultural shifts is a growing sense of shared identity among deaf people. Another, according to Moriarty Harrelson, is the "creativity and tenacity of Cambodians, especially deaf Cambodians, who navigated social upheaval and found other ways to communicate without a national sign language. 
When Moriarty Harrelson first visited Cambodia in 2009 she encountered a deaf woman selling scarves at a market. The woman did not know sign language but was able to communicate effectively and confidently with tourists through a series of gestures. In her Fulbright personal statement, Moriarty Harrelson wrote, "In a way, being deaf was an advantage as she was uninhibited by the lack of a shared spoken language and easily found other ways to communicate with people who do not sign." 
Preparing for the Fellowship

Moriarty Harrelson returned to Cambodia on research trips in 2012 and 2013 and learned digital ethnography. On her second trip she observed deaf Cambodians teaching sign language to other deaf people, some of whom were seeing it for the first time. During these trips she traveled widely, gathering stories. 
"When I conducted preliminary fieldwork in 2013," Moriarty Harrelson wrote, "I met deaf individuals in several cities across Cambodia with compelling stories—a circus performer in Battambang, a Cham man whose parents scoured the country for a woman willing to marry their deaf son, traditional dancers in Siem Reap, an NGO worker teaching sign language in rural communes in Kampong Cham, and garment workers in Phnom Penh earning less than their counterparts because they are deaf." 
Before her departure for her upcoming trip, Moriarty Harrelson will receive training by National Geographic staff in digital storytelling techniques, including effective blog writing, video production, and photography. A National Geographic editor will mentor her throughout her trip. 
When she returns, Moriarty Harrelson will complete her PhD studies at AU. She received an MA in public anthropology from AU in 2013. She also earned an MA in communication in contemporary society from Johns Hopkins University and a BA in art history and anthropology from Smith College. She has worked for the American School for the Deaf, Telecommunications for the Deaf (TDI), and Gallaudet University.