Achievements
Tonei Glavinic Honored with Feminist Scholar Activist Award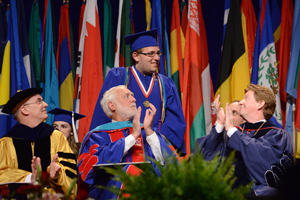 The Women's, Gender, and Sexuality Studies Program (WGSS) is proud to announce Tonei Glavinic as this year's Feminist Scholar Activist Award winner for his unfailing effort to combat discrimination and ensure equal protection for members of the LGBT community at American University and beyond. Throughout Glavinic's undergraduate career, he focused on integrating his academic studies with social activist work to make a difference in the lives of lesbian, gay, bisexual, and transgender (LGBT) people. This is evident in his coursework and in internships with the Gay, Lesbian and Straight Education Network (GLSEN), the National Center for Transgender Equality (NCTE), the National Gay and Lesbian Task Force, and the National Center for Lesbian Rights (NCLR). Through these multiple internships Glavinic was able to explore civil and human rights issues within the larger framework of his gender studies and his studies in government. 
Glavinic used his research for the WGSS capstone seminar to develop the Transgender On-campus Nondiscrimination Information (TONI) Project. TONI is a wiki-style website that allows trans students and allies to share, discover, and transform their campus by creating a centralized resource of relevant policies and practices for schools across the country. Glavinic initially pursued the TONI Project because he recognized that trans students remain a woefully underserved population. Glavinic said, "applying for college is hard enough without the need to comb through each school's website to find out whether it will protect its students from harassment and provide the opportunity for its students to live authentically. Having many trans friends who struggled with finding a school where they could learn safely, I wanted to find a way to decrease the struggle for future generations of trans people." Glavinic hopes that this project will inspire others to work on transforming their campuses into more supportive environments.

In the fall, Glavinic will continue connecting academic study and activism in service to the LGBT community when he enters the Community Development Track of the Social Justice and Community Development program at Loyola University Chicago.  In graduate school, Glavinic plans to work on a research project interviewing parents about the experiences of their transgender children. Glavinic explains, "Transgender people in general have only recently gained access to any quantitative evidence about their experiences, and no such data yet exists for transgender children. My hope is that my research could change the status quo, providing regional and national advocacy organizations with sorely needed numbers to support their struggles for public recognition and policy changes to support trans children." Gay Young, Director of WGSS, was among those who honored Glavinic for his determination to ensure LGBT people are fully included in all aspects of AU campus life.  She is confident that Glavinic's research and activism will continue to secure civil rights and widen social justice for members of the LGBT community.