Annual Report

The past year has been notable for achievements rising from cornerstones both literal and figurative.
Campus Plan

American University's 2011 Campus Plan is a "roadmap" that details proposals and objectives to enhance and build upon our campus facilities for the next decade.

Douglas Kudravetz, Interim CFO, Vice President & Treasurer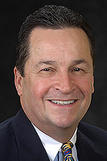 Douglas Kudravetz was named Interim Chief Financial Officer, Vice President and Treasurer of American University in 2014. As interim chief financial officer, he oversees the overall financial and investment management of the university.
RSS
Events Calendar
Todays Events