In 2012, a number of important changes were made to the Free Application for Federal Student Aid (FAFSA) filing process. The most significant change was the ability to populate the FAFSA's financial information section with tax return data using the IRS Data Retrieval Tool. 
The Office of Financial Aid recommends that all FAFSA filers use the online filing system to ensure the most accurate information. To allow you to take advantage of these updates, the FAFSA filing deadline for continuing AU students is May 1, 2015.

Before You File the FAFSA
Both the student and a custodial parent should have a Department of Education PIN. To obtain a PIN, visit www.pin.ed.gov.
Custodial parent and student (if applicable) must file 2014 tax returns. It typically takes two weeks after filing tax information before it is available for use in the IRS Data Retrieval Tool.
Filing the FAFSA
Visit www.fafsa.ed.gov and click "Start Here."
Enter all required information.
In the "Student Tax Information" section, select "Already completed" when asked if 2014 tax return has been completed. (See screenshot 1 below.)
On the same screen, complete the questionnaire. If applicable, select "None of the above," this will allow you to use the IRS Data Retrieval Tool. (See screenshot 1 below.)
You will be redirected to the IRS website where your 2014 tax return information will be pulled into your FAFSA after you answer some basic demographic information to ensure your identity. (See screenshot 2 below.)
Follow the remaining instructions to complete your FAFSA filing.
Screenshot 1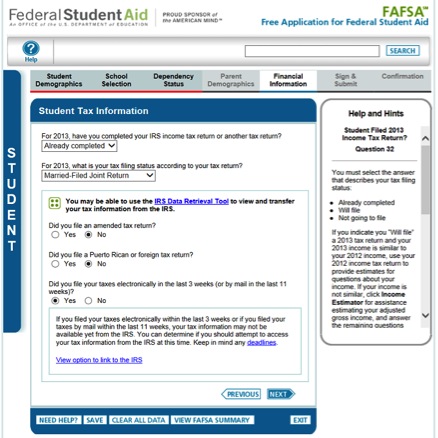 Screenshot 2