Human Resources
4400 Massachusetts Avenue NW
Washington
,
DC
20016
United States
Tuition Remission

After four months of active full-time employment, American University offers tuition remission for eligible employees, spouses and same-sex domestic partners at American University and Wesley Theological Seminary.
What's Covered
Tuition for eligible courses taken at AU and Wesley Theological Seminary.
A maximum of 8 credits per semester.
A maximum of 20 credits per academic year.
What's Not Covered
Some courses are not covered
(a list of ineligible programs is available on the myBenefits site).
Application, exam, or matriculation fees.
Course or lab fees.
$50 administrative fee.
What's Taxed
Tuition on graduate level courses
Taxation can significantly reduce your take-home pay. Use the Symmetry® calculator to estimate your net (take-home) pay if you will be taking courses that are subject to taxation.*
*The Symmetry calculator is only meant to provide general guidance and estimates about the payroll process. It should not be relied upon to calculate exact taxes, payroll or other financial data. It may not match your American University results precisely and is not intended to provide tax or legal advice. You should consult with a professional advisor or accountant to address your specific concerns.
Education Benefits for Dependent Children
American University offers educational benefits for dependent children including:
AU Dependent Tuition Scholarship - tuition remission for full-time regular or provisional enrollment in a degree program at American University or the Wesley Theological Seminary. Provisional status is only covered for 1 year; at the end of that year the child must be considered a full-time student in a degree program in order to continue the benefit.
Tuition Exchange - tuition remission at another institution participating in the Tuition Exchange, Inc. scholarship program.
Cash Grants available for dependent children of faculty and staff hired before July 1, 1995 and employed continuously since in a full-time position.
Employee Eligibility
Must be a full time faculty member or full time staff member, AND
Have at least two years of continuous, full-time employment with the university as of September 30 for fall enrollment, or January 31 for spring enrollment.
Child Eligibility
Will be enrolled as a full-time student in a program leading to a generally recognized degree at a University within the US;
Initiated full-time study prior to his/her 21st birthday; and
Claimed as a dependent on tax return.
Dependent Education Benefits Workshop, AY 2019-2020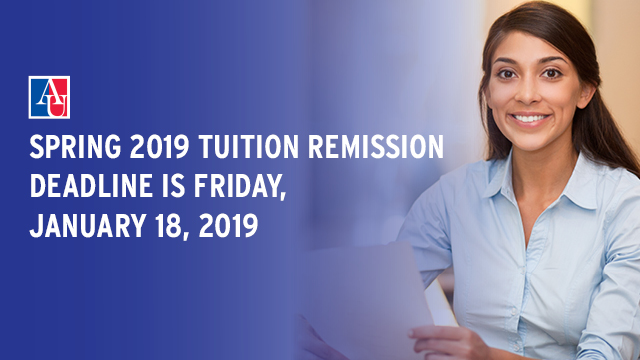 Apply for Tuition Remission by January 18, 2019
To learn more about AU's Tuition Remission benefit, view the workshop slide deck.
Apply Online
Eligible full-time faculty and staff must submit the online application on the myAU portal each semester they plan on using AU's tuition remission benefit.
To apply online:
Visit the myAU portal
Personalized Links
Work@AU
Tuition Remission Application