Alumni
Alumna Strikes a Balance Between Accounting and Yoga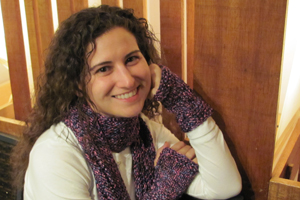 Lisa Calandriello, BSA '00, has two passions that have resulted in successful careers—accounting and yoga.
After a full day at the office, working as an assistant chief auditor at a local firm, Calandriello heads to one of two Tranquil Space studios to teach yoga. This week is especially busy as May 13-20 is D.C. Yoga Week—participating D.C. studios, including Tranquil Space, offer free and reduced rate yoga classes.
She has a 200-hour Vinyasa teaching certification and by the end of 2012, she will complete a 500-hour advanced teaching certification that focuses on anatomy, physiology, and philosophy. She'll also start a graduate certificate program in nutrition education at AU's College of Arts and Sciences this fall.
Calandriello dabbled in yoga for about a decade before developing a consistent practice, and then ventured into teaching.
"I've always liked to teach, so it seemed natural for me to pursue teaching something I love so much," she said.
Calandriello currently teaches several nights a week and volunteers to lead weekend workshops. She also has a blog and was named one of 8 Yoga Bloggers to Know in Washington by Washingtonian magazine.
Her interest in health and fitness began as a student with one and two credit classes at AU's Jacobs Fitness Center.
"My initial exploration was for stress management and physical fitness," she said. "Over time, practicing yoga has changed my demeanor so I can better respond to difficult situations in and out of the office."
First Love
Yoga wasn't her first calling. Calandriello knew in high school she wanted to work in accounting. When looking at universities, she found that D.C.'s location was the perfect combination of suburb and city.
"Kogod had a great accounting program and I really enjoyed the feel of AU, so I applied early decision," she said.
While she enjoyed many of her accounting classes, Business Policy and Strategy with Assistant Professor Richard Linowes was by far one of her favorites. "We always had interesting discussions and it connected me with business majors from outside the accounting program."
After graduation, Calandriello took the CPA exam and worked in public accounting in D.C. and New York. She is licensed in four jurisdictions, including Virginia.
After taking a job briefly in SEC reporting, Calandriello now writes auditing standards for auditors. She obtains input from various stakeholder groups and puts it into a format that improves the quality of future audits.
"I love D.C. and think I'll probably be in this area for a long time," she said. She is working on a "where I want to be when I'm 40" plan.
She's also working on a plan to continue sharing yoga. "I hope to take on more classes and workshops, and as time progresses, maybe I will want to take it even further. Time will tell as both of my careers are important to me right now."