Living Learning Communities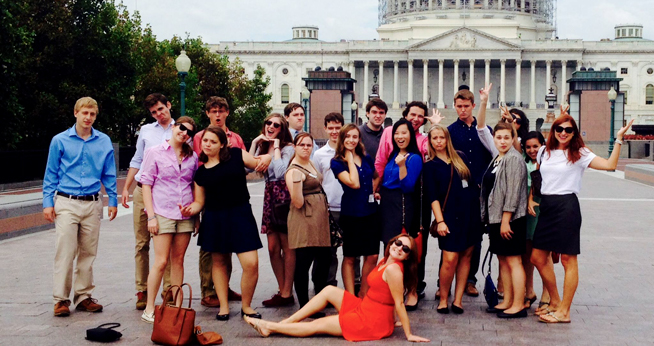 American University offers a number of special living environments known as Living Learning Communities (LLCs). LLCs are cohorts of students who live and explore a common interest or academic pursuit together. Some include required courses that students must take and others are organized around a theme or community interest that students wish to learn more about. Admittance to programs vary based on individual requirements.
Office of the Provost
AU Scholars
Community-Based Research Scholars
Frederick Douglass Distinguished Scholars
Honors
University College
Learn more about LLCs under Office of the Provost.
College of Arts & Sciences
Housing & Residence Life
Social Justice
The Social Justice Living Learning Community (LLC) is designed for students interested in better understanding and practicing social justice, and will be located in Roper Hall. In partnership with various campus departments, students will have the opportunity to engage in a wide variety of experiences on the topics of civil rights, women's rights, LGBTQ rights, and other social justice movements in this pilot program. Some of the activities include:
Special guest speakers
Trips to historic Washington, D.C. sites
Social justice skill building sessions
Faculty-led and staff-led discussions on current events and trends relating to social justice
The opportunity to meet AU alumni working in different movements
The Social Justice LLC is designed to introduce students to live, learn, and explore social justice as a tool to create change. This will be an open gender housing community, providing the option for students to live with the roommate with whom they are most comfortable without consideration to the individual's sex, gender or gender expression. This community will be open to both new and returning students of all majors.
Interested students can apply for a space through the housing application.
Leadership Academy
The Leadership Academy at American University (AU) develops courageous and ethical future leaders of diverse intellectual curiosity, and a passion for learning, service and achieving uncommon success. This is accomplished by providing students with a unique opportunity to participate in seminars, lectures, colloquiums, and practical workshops that are designed to develop a capacity to lead in a complex global society. Some of the opportunities include:
Leadership seminars and workshops
Special conversations with campus administrators
Colloquiums and lectures with AU faculty
Mentorship and networking opportunities with AU faculty, staff, and alumni
Serving in a leadership position on the Academy Governance or Academy Advisory
Event management training
Advanced problem analysis and problem solving simulations
Residents, or academy fellows, can discover and develop their leadership identity within a community of learners with activities facilitated by a dynamic group of student leaders, faculty, and staff.
Interested students can apply for a space through the housing application.